About

Admissions

Academics

Life at AUS

.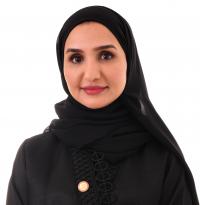 Ms. Bedour Saeed Al Raqbani
Social Entrepreneur, Dubai, UAE
Ms. Bedour Saeed Al Raqbani is an Emirati social entrepreneur and a social activist. A recipient of the UAE Pioneers Award for founding Kalimati Communication and Rehabilitation Center, she is a recognizable voice for social inclusion and systemic integration in the country.
An alumna of American University of Sharjah, Ms. Al Raqbani graduated magna cum laude with a Bachelor of Science in Visual Communication, along with the AUS Chair's Award and the Sheikh Rashid Award for Scientific Excellence. Her philanthropic accomplishments stem from her support of grassroots initiatives working towards an equitable society. She is a Board of Trustees Member at the CSR UAE Fund, co-Chair of the School Advisory Board at American Academy for Girls, member of the UAE Sign Language Dictionary, and an active participant in local and international colloquia and conferences addressing the empowerment of People of Determination. Among her many projects, she headed the organizing committee of Hear My Voice: Empowering the Deaf International Conferences, was part of CDA's Brainstorming Lab on elevating sustainable community development, and co-organized the UAE's first Innovation Lab for The Deaf. She is also the first Emirati to participate in the International Visitor Leadership Program in NGO Management, organized by the US Department of State Bureau. She was a member of the UAE Advisory Council for People of Determination.
A strong advocate of the power of creativity merged with education, Ms. Al Raqbani founded other Emirati Social Enterprises and several social design campaigns in collaboration with UNHCR. She was a speaker at Majlis Mohammed Bin Zayed in Youth & Leadership, participated in the UAE's First Government Retreat for People of Determination, and joined Design for the UAE National event. Her accolades span academic excellence awards and national leadership honors. She is the recipient of the Arab Women Award in Education, the GCC Women Leadership Award, CDA Award for Mothers of Special Children, Princess Haya Award in Special Education and Sheikha Wafa Hasher Al Maktoum Award for UAE Woman Excellence.