About

Admissions

Academics

Life at AUS

.
CAAD
> Basic Grasshopper Interface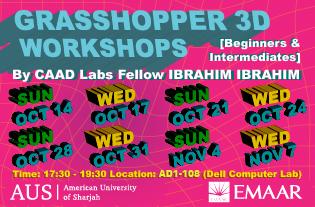 Basic Grasshopper Interface
AD1-108 (Dell Computer Lab)
October 14, 2018 - November 7, 2018
17:30 - 19:30
This is one of eight workshops that are part of a series entitled "Grasshopper 3D Workshops."  The workshop will be taught by CAAD Labs Fellow Ibrahim Ibrahim.
The workshops were made possible due to generous support of EMAAR Properties PJSC.
For more information, please contact us at [email protected].