About

Admissions

Academics

Life at AUS

.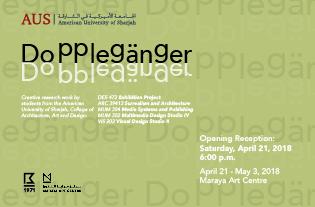 Doppelganger
Maraya Art Centre, Sharjah
April 21, 2018 - May 3, 2018
18:00 - 19:00
With the thrust of digital culture and robotic fabrication overwhelming the production of everyday objects, the status of crafting finds itself in a unique position to emerge as a locus of resistance to the erasure of aura and immanence that these new technologies portend. And yet, when placed in a museum context, the rarefied hierarchy existing between fine arts and craftworks suggests that an act of translation is required in order to situate this work between "fine craft" and "art work." This exhibition seeks to merge the real products of traditional crafts emblematic of Sharjah with the hyperreal production of their products through simulated technologies to produce high-tech and crafty artifacts. 
This exhibition draws from UAE craft heritage by representing craft through the contemporary lenses of digital culture and projecting it into the future of place-making and public art in Sharjah. As a record of past, present and future iterations of craft in the Emirates, it explores the tensions between an object that is ready-to-hand while implying its own iconic future in representation and simulation. 
The show features creative research work by students from the College of  Architecture, Art and Design in the following courses:
DES 472 Exhibition Project
ARC 39413 Surrealism and Architecture
MUM 304 Media Systems and Publishing
MUM 302 Multimedia Design Studio IV
VIS 202 Visual Design Studio II
The exhibition will remain on view through May 3, 2018.