About

Admissions

Academics

Life at AUS

.
CAAD
> Hot Air by Erik L'Heureux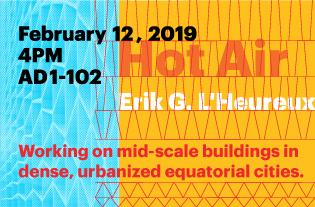 Hot Air by Erik L'Heureux
CAAD Lecture Hall, AD1-102
February 12, 2019
16:00 - 17:00
Open entry
Erik L'Heureux is an award-winning American architect, honored educator, and respected administrator; leading transformative projects to provide impactful architectural solutions to environmental challenges.
For more information, please contact [email protected].