Home
> How to Maneuver: Shape-shifting Text and Other Publishing Tactics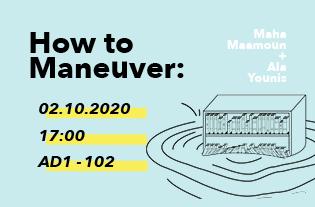 How to Maneuver: Shape-shifting Text and Other Publishing Tactics
AD1-102, CAAD Building
February 10, 2020
17:00
Open Entry
Artists have long used the printed page as an extension of, as well as a release from, the exclusivity of gallery walls and their attendant market systems. Beyond the form of artist books, artists have expanded their interest to the field of publishing itself. They examine questions of access to public space, the terms governing what is publishable, the resultant realms of inclusion and exclusion, as well the rich tactics, historical and contemporary, of maneuvering these systems of acceptance and restriction. In light of our personal experience as independent publishers, through our publishing initiative called Kayfa ta, we have embarked on an on-going research into contemporary as well as historical alternative publishing practices, with a strong interest in engaging these different modes of production in a reflection about the possibilities of the past and the present.
A lecture by Maha Maamoun and Alaa Younis.
For more information, please contact [email protected].