About

Admissions

Academics

Life at AUS

.
CAAD
> Opening: Tarkeeb Gate House and Garden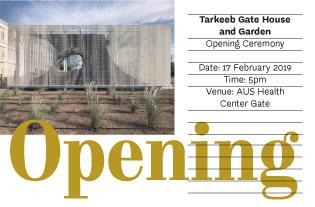 Opening: Tarkeeb Gate House and Garden
Main Entrance, AUS Health Center
February 17, 2019
17:00 - 20:00
Open Entry
The Tarkeeb Gate House and Garden is the first standalone, habitable structure to result from the College of Architecture, Art and Design's Design-Build Initiative. It was completed with the strenuous efforts of faculty and students, and was made possible by contributions of time, materials, equipment and labor from several outside sponsors. The project is unique in its design and its execution.
Please join us to celebrate the completion of the project. Selected students will talk about their experience and its impact on their education.
For more information, contact [email protected].