About

Admissions

Academics

Life at AUS

.
CAAD
> Panel Discussion: 100 Best Arabic Posters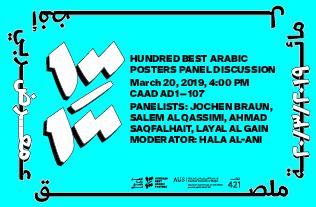 Panel Discussion: 100 Best Arabic Posters
CAAD AD1-107
March 20, 2019
16:00 - 17:00
Open entry
This Panel Discussion will complement the 100/100 Best Arabic Posters exhibition currently taking place at the College of Architecture, Art and Design (CAAD) at American University of Sharjah (AUS).  
The Panel Discussion aims to focus on the role that the biannual competition plays in preserving the visual culture manifested through posters and how it can further empower graphic designers to continue their practice in the region. The Panel will also tackle how CAAD community can participate in future editions of the competition. 
Panelists: Jochen Braun, Salem Al Qassimi, Ahmad Saqfalhait, Layal Al Gain 
Moderator: Hala Al-Ani
You are invited to this Panel Discussion.
For more information, please contact [email protected].