CEN
> Personalized Medicine: Opportunities and Limitations

Personalized Medicine: Opportunities and Limitations
EB1 030 CEN Auditorium
May 2, 2018
11:00 - 12:00
Free admission
Part of the College of Engineering Innovation Lecture Series
Theresa M. Allen, Professor Emerita, Department of Pharmacology, University of Alberta; Co-founder, Centre for Drug Research and Development; Adjunct Professor, University of British Columbia; Conference co-organizer, Personalized Medicine Summit 2015 and 2017.  www.personalizedmedsummit.com
---
The super-exponential evolution of DNA sequencing is already starting to transform the way we practice medicine and has important implications for the future practice of medicine, including areas such as drug discovery and development, pharmacology and pharmaceutics, therapeutics and drug delivery, and how we will train our future generations of students. There are also important implications for the economics of health care, patient ethics and health care delivery. Countries such as the USA, the UK, Australia, China and Canada are leading this change, driven in part by the existence of ever larger genetic data banks, the promise of better clinical management of patients by physicians, and the grass roots patient demand for more control over their own health. In high-income countries DNA sequencing has now become so inexpensive that it has become almost routine, allowing the data to be mined for novel targets leading to new therapeutics, accompanied by diagnostic tests that enable us to identify which patients will respond to specific therapies. Forward-looking companies are keen to incorporate large bases of human genetic data into their discovery and clinical programs and the number of partnerships between gene sequencing companies and traditional, vertically integrated pharmaceutical companies are increasing rapidly.
The outcome of these developments is a rapid, dramatic and irreversible shift in how we practice medicine. Detailed molecular profiling of patients, made possible by recent technological advances, are already enabling more precise diagnosis of disease and improving our ability to more accurately match therapies to individual patients by reducing non-responders, lowering toxicities, or helping patients stay healthier through informed prevention. "One size fits all" is rapidly becoming an outdated concept. A dramatic shift is under way in the pharmaceutical and biotechnology industries as they adapt target discovery to human-derived genomic. proteomic, metabolomic and microbiomic data. This new medicine is called "personalized medicine," "precision medicine" or "molecular medicine."  The move to personalized medicine is rapidly gaining momentum and this shift brings with it enormous opportunities for improved patient health, for savings to the healthcare system, and for economic opportunities for companies that are early movers. Now, using non-invasive techniques, and for increasingly modest fees, patients can have their "omics" profiles available at their fingertips, and the access of patients to massive amounts of medical information on the Internet and other easily accessible sources makes every patient an expert on themselves. This empowers patients in their relationship to their doctors and is changing the doctor-patient relationship in a way is about to change the face of modern medicine forever. 
There will be challenges for each of the stakeholder groups, including governments, industry, health care providers and research institutions, not the least of which will be handling and interpreting huge amounts of data and patient confidentiality, and dealing with clinical trials where there may be only one individual. The implications for research funding cannot be underestimated. Some older or more traditional lines of research will no longer be competitive in this environment, but some new opportunities will replace them. What will be the new lines of research that will lead to successful products in the rapidly changing environment of drug development. What are the challenges and where are the bottlenecks?
About the presenter: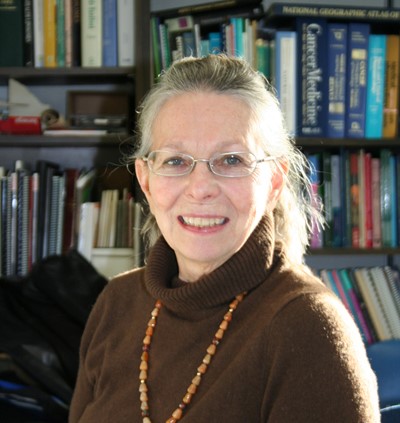 Theresa Mary Allen, PhD, FRCS
Professor Emerita of Pharmacology and Oncology
University of Alberta, Edmonton, AB
Co-founder and Strategic Advisor
Centre for Drug Research & Development, Vancouver, BC
Adjunct Professor, Biochemistry and Molecular Medicine
University of British Columbia, Vancouver, BC
EDUCATION:  RT, Medical Technology, 1961 Ottawa General Hospital;  BSc Honours, Biochemistry, 1965, University of Ottawa;  PhD, Oceanography, 1971, Dalhousie University
RESEARCH AND PROFESSIONAL EXPERIENCE:
2010 to present           Professor Emerita (retired) University of Alberta
2010 to present           Adjunct Professor, Biochemistry and Molecular Medicine, University of British Columbia, Vancouver, BC
2006 to present           Co-founder, Centre for Drug Research and Development, Vancouver, BC
1997 to 2009               Secondary appointment as Professor of Oncology, University of Alberta
1988 to 2009               Professor, Department of Pharmacology, University of Alberta
1981 to 1988               Associate Professor, Department of Pharmacology, University of Alberta,
1977 to 1981               Assistant Professor, Department of Pharmacology, University of Alberta,
1976 to 1977               Instructor, Department of Pathology and Department of Biochemistry; Associate Scientist, Comprehensive Cancer Center, University of Alabama, Birmingham, Alabama
1972 to 1976               Instructor, Department of Pharmacology, University of Miami, Miami, FL
1971 to 1972               Research Assistant, Department of Chemistry, McGill University
RESEARCH:
Theresa Allen is a Professor Emerita of Pharmacology and an adjunct professor of Oncology at the University of Alberta. She has been active in the drug-delivery field for over 30 years, and has made important contributions to the development of long-circulating liposomes and ligand-targeted nanomedicines for anticancer drugs and gene medicines. She has more than 200 peer-reviewed publications and is an inventor on several patents. The product DoxilÒ (CaelyxÒ in Europe), the first anticancer nanomedicine approved in the world, came out of pioneering research in her laboratory at the University of Alberta. She has also been active in the area of new drugs from natural products, which has resulted in two drugs proceeding into Phase II clinical trials. Her recent work in developing ligand-targeted therapeutics for small molecule therapeutics and gene medicines is widely recognized
Dr. Allen has been active throughout her career in mentoring graduate students, summer students and technologists. Her former graduate students occupy senior positions in academia and industry throughout the world. She has also been a popular classroom teacher in courses in pharmacology and pharmacy.
Dr. Allen is a founding member and strategic advisor of the Centre for Drug Research and Development (www.cdrd.ca), which is a novel hybrid organization devoted to advancing promising medical discoveries from academia to a commercially attractive stage. The Centre for Drug Research and Development (CDRD) evolved from the recognition by the Founders of the pressing need to improve the translation of medical discoveries made in the universities and teaching hospitals into new drugs and technologies that result in economic and health benefits for Canada. CDRD takes a unified, coherent approach to identifying, advancing, and commercializing innovative life science discoveries via a unique structure that connects scientists, health care providers, and industry.
She is a member of a number of editorial boards in the field of drug delivery and drug targeting, and is frequently an invited speaker at national and international conferences, at universities and at biotechnology companies and at major pharmaceutical companies. Her prominence in the field is attested to by the number of national and international awards that she has received, which are listed below.
HONORS AND AWARDS:  Governor General's award for highest average graduation from high school; Gold Key award for highest average BSc in Biochemistry; Fisheries Research Board of Canada grant for 5 years for PhD in oceanography; Defence Research Board of Canada grant for 1 year for post‑doctoral research in Neurochemistry; Killam Professor, U. of Alberta, 1995-96; McCalla Research Professor, U. of Alberta, 1998-99; finalist ASTech Award for Leadership in Alberta Technology, 1999; Cygnus Award (Controlled Release Society) for excellence in guiding graduate student research; Novartis award 2000 (Pharmacological Society of Canada) for significant contributions to the advancement and extension of knowledge in Pharmacology; winner ASTech Award for Leadership in Alberta Technology, 2001; winner Alec Bangham International Award for contributions to liposome research, 2002; winner Leadership Award from the Canadian Society for Pharmaceutical Sciences, 2004; elected a Fellow of the Royal Society of Canada, 2005. Elected to the College of Fellow of the Controlled Release Society, 2012. Who's  Who in Canada for over a decade.
INVITED LECTURES AND CHAIRS:  More than 220 invited lectures in over 26 countries
PUBLICATIONS:  More than 225 peer reviewed publications and book chapters
PATENTS: 17 patents
INVITED PRESENTATIONS: More than 265 invited lectures in over 25 countries