CEN
> Reprogram Your Genes: CEN Innovation Lecture Series

Reprogram Your Genes: CEN Innovation Lecture Series
Main Building - Lecture Hall B
April 12, 2018
12:00 - 13:00
Free admission
Part of the College of Engineering Innovation Lecture Series
Her Excellency Dr. Maryam Mohd. Fatma Matar MD, PhD
Scientist. Genetics Expert. Healthcare Influencer. Leadership Mentor, Founder & Chairperson of UAE Genetic Diseases Association (UAEGDA), Vice Chairman Dubai Cares
---
Join us for an interactive workshop with one of the most influential scientists of the UAE, genetics expert and a women leadership mentor, Her Excellency Dr. Maryam Matar. 
She will share easy-to-understand insights on topics such as:
What is "DNA" and what role does it play in your life?
How your genes affect your daily life, your health and well being
Peak performance and genes
Epigenetics: optimal brain function, peak academic performance and healthy body and mind
Smart ageing: how to beat the negative impact of ageing
You will also get a chance to:
ask questions and get answers
get simple-to-read, credible information on the most common genetic disorders
meet our genetic expert team and find about easy genetic screening tests
About the presenter: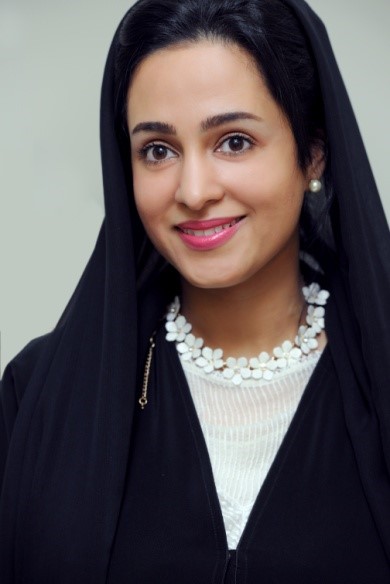 Her Excellency Dr. Maryam Mohd. Fatma Matar
MD, PhD, Scientist. Genetics Expert. Healthcare Influencer. Leadership Mentor, Founder & Chairperson of UAE Genetic Diseases Association (UAEGDA), Vice Chairman Dubai Cares
One of the most well-respected advisors for public and private sector organizations on sustainable healthcare, community empowerment and youth development, Dr. Matar serves as a chairperson/senior advisor in over 15 international, regional and local committees for Women in STEM, youth leadership and preventive healthcare initiatives.
A leading healthcare influencer, she advocates public education and awareness of genetic disorders across the ME region. She is:
recognized as the most powerful scientist in the UAE since 2014
recognized among the top 20 Arab scientists with the biggest contribution to humanity by British Scientific Community 2016
among the "50 most influential Arab women" listed by Arabian Business for six consecutive years
among the "100 smartest people in the UAE"
Dr. Matar is a strong advocate of empowering community in healthcare, and has a very strong background and expertise in sustainable development, strategic planning and leadership, public policy and advocacy.
She is the first woman Director General of Community Development Authority (CDA), which undertakes to formulate social policies and deliver social services that are in line with and contribute to the achievement of the social development objectives of Dubai Strategic Plan 2007 – 2015, launched by His Highness Sheikh Mohammed Bin Rashid Al Maktoum, Vice President and Prime Minister of the UAE and Ruler of Dubai, on February 3, 2007. In 2005, Dr. Matar was the leader of the executive team that set up social development strategies for the Dubai Strategic Plan.
As a strategic advisor, she is helping leading organizations across Southeast Asia and the GCC to build an enabling environment where talent, science and innovation flourishes.
In 2004, she had conceptualized a national body on genetic disorder, awareness and prevention and is the Founder and Chairperson of the UAE Genetic Diseases Association. The UAE Genetic Disease Association achieved extraordinary results such as screening of 37,281 Emirati families and more than 13,000 expat families
Her commitment to women leadership, STEM and scientific innovation, makes her a globally acclaimed speaker and influencer, and she regularly speaks, champions and supports the cause of women empowerment, participation and recognition in corporate and educational sectors. Dr. Matar mentors over 100 professional women and 500 young professional graduates on an annual basis and speaks at more than 35 specialist conferences in the field of healthcare across the region every year.