About

Admissions

Academics

Life at AUS

.
Home
> Sharjah Light Festival at AUS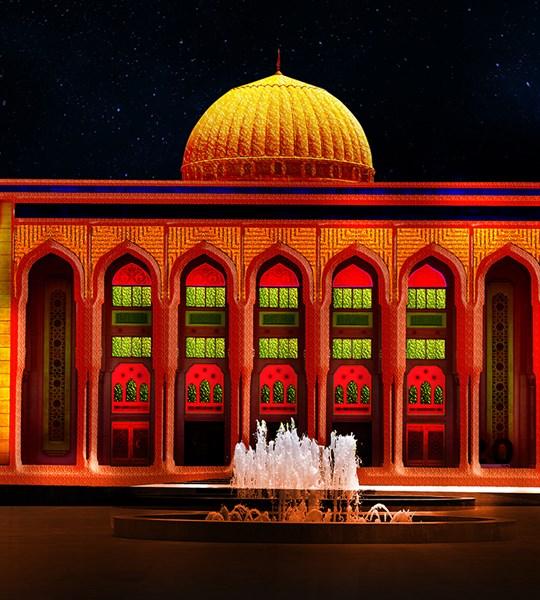 Sharjah Light Festival at AUS
AUS Main Building
February 6, 2019 - February 16, 2019
18:00 - 00:00
Open Entry
AUS is one of the sites selected for this year's edition of the Sharjah Light Festival, organized by the Sharjah Commerce and Tourism Development Authority. Artists from around the world have been invited to create light shows celebrating science, creativity and heritage to be projected on landmarks around the emirate.
The light show Marching Through Life by artist Julien Croyal will be projected onto the front of the Main Building the nights of February 6-16, 2019 according to the schedule below.
6:00 p.m. to 11:00 p.m. on weekdays
6:00 p.m. to 12:00 a.m. (on weekends)
Show at AUS: Marching Through Life
What is university about? University can be thought as the gathering of an intellectual family passing on everlasting knowledge and desire to learn even more to each next generation of students. The show imagined for American University of Sharjah symbolizes this procession of actors passing on traditions and knowledge from one generation to another. A band of characters in animated hand drawing march and play all around the facade of the building, a tribute to the talent of AUS's creative students.
Artist: Julien Croyal
Illustrator and motion designer, Julien Croyal enjoys working with both traditional and digital material, switching from a pen and a sheet of paper to a stylus and a touch screen to animate sceneries and characters. Drawing inspiration from Franco-Belgian comics to foreign pop-culture elements, he intends to tell playful stories in still or animated images, pursuing the desire to explore a multiplicity of medium in this regard, from wall painting to screenprinting, adding now projection mapping to his list.
For more information, visit www.sharjahlightfestival.ae.