About

Admissions

Academics

Life at AUS

.
CAAD
> School of Athens reenactment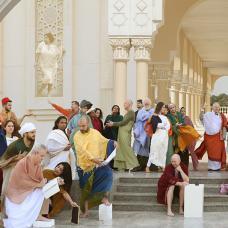 School of Athens reenactment
CAAD gallery AD2-123
September 20, 2018
05:00
The College of Architecture, Art and Design (CAAD) will be unveiling a permanent display of the School of Athens reenactment created by recently graduated CAAD students.
In Spring 2018, CAAD students produced a contemporary version of one of Renaissance Italy's most famous artworks, Raphael's School of Athens. Seven architecture students brought together students, staff and faculty, all meticulously prepared to portray one of the many intellectual giants included in Raphael's painting. This art work was created in honor of Dr. Martin Giesen and has been written about in several popular and critical venues.
All are invited to this event.