About

Admissions

Academics

Life at AUS

.
Registration/ Abstract Submission
Warning message
Submissions for this form are closed.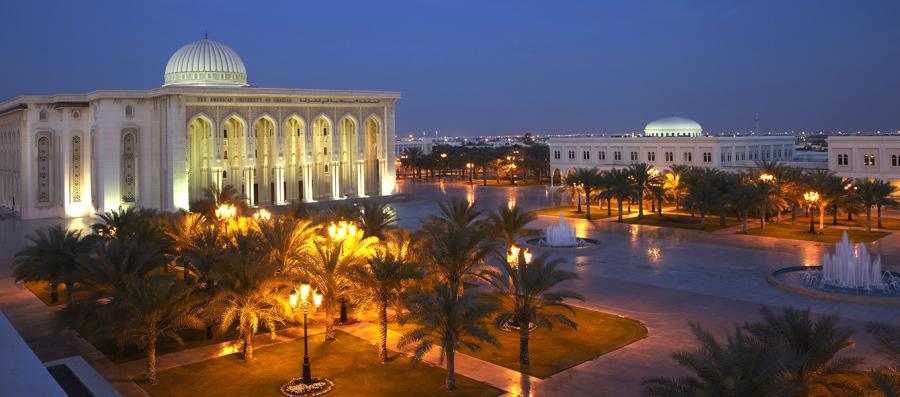 UAE Math Day was initiated in 2003 with the aim of providing a scientific forum where mathematicians from educational and research institutions in the UAE and GCC countries come together to discuss the latest research advances in the wide areas of mathematics and their applications. UAE Math Day provides a friendly environment where researchers from UAE institutions can meet, share ideas and establish cutting-edge collaborative research that contributes to the advancement of UAE academic institutions. 
UAE Math Day has been hosted by the following instiutions: University of Sharjah (2003, 2006, 2009, 2017), American University of Sharjah (2004, 2012), UAE University (2005, 2013), Etisalat University (2007), Petroleum Institute (2008), Zayed University (2010), Ajman University of Science and Technology (2011), American University in Dubai (2014), Paris-Sorbonne University Abu Dhabi (2015), New York University Abu Dhabi (2016), and American University of Ras Al Khaimah (2018).
| | |
| --- | --- |
| Registration Opens | December 15, 2019 |
| Abstract Submission Deadline | February 16, 2019 |
| Registration Deadline | March 1, 2019 |
Plenary Talks
 

Professor Azmy S. Ackleh
Dean of the Ray P. Authement College of Sciences and Professor of Mathematics
University of Louisiana at Lafayette, Louisiana, USA

New accordion title

New accordion content

Bio

Azmy S. Ackleh received his PhD from the University of Tennessee at Knoxville in 1993. He then joined the Center for Research in Scientific Computation at North Carolina State University as a postdoctoral fellow until 1995 where he became an Assistant Professor of Mathematics at the University of Louisiana at Lafayette. In 2000, he became Associate Professor of Mathematics and in 2003 he became Full Professor of Mathematics. In 2007, he was selected to become the R.P. Authement Eminent Scholar and Endowed Chair in Computational Mathematics at the University of Louisiana at Lafayette. 

Ackleh's research is in the area of mathematical biology. He has published more than 140 peer-reviewed articles in this area, served as PI or Co-PI on more than $8 million in research grant funding, and served as the major advisor for 16 PhD students. He is particularly interested in the development of continuous and discrete models in population ecology and epidemiology and in using mathematical tools to understand the short-term and long-term behavior of solutions to these models. He develops numerical methods for solving nonlinear PDEs arising in such applications and uses these numerical schemes to analyze the solution behavior. He also applies functional analysis and dynamical systems approaches to study stability and persistence properties of populations. Particular applications that he has worked on include selection-mutation models, amphibian dynamics, the transmission dynamics of Mycobactertium marinum in aquatic animals, and the impact of oil spills on marine mammals in the Gulf of Mexico.

To see his abstract, please click here.
 

Professor Mohammed Seaid
Department of Engineering
Durham University, UK

New accordion title

New accordion content

Bio

Professor Mohammed Seaid first graduated from University Complutense of Madrid in Spain then moved to Darmstadt Technische Universitaet in Germany and Kaiserslautern Technische Universitaet in Germany as a postdoctoral, research associate and assistant professor. In 2017 he held a position of professor at Mohammed VI Polytechnic University in Benguerir. He also holds a position of associate professor at School of Engineering and Computing Sciences, University of Durham, UK. His research work has focussed on two areas: (i) modelling free-surface water flows and sediment transport and (ii) development of robust numerical methods for computational hydraulics. Much of his work has been conducted on high-performance computing pltaforms. Together with colleagues in the Fraunhofer Institut Techno und Wirtschaftsmathematik, Kaiserslautern, Germany, he has been developing lattice Boltzmann methods for shallow water equations in tidal flows. The theoretical and computational work recently has focused on the application of lattice Boltzmann methods for deformational problems, which provides a computational framework for examining the performance of lattice Boltzmann methods in spatial domains with moving boundaries. Since taking up his current post at Durham, he has researched into the use and development of adaptive finite volume methods applied particularly to hydraulic engineering problems. He has investigated well-balanced discretizations for shallow water equations on nonflat topography using finite volume techniques. Professor Mohammed Seaid has published more than 100 papers in international journals on computational fluid dynamics and numerical methods for interactions between sediments and water.

To see his abstract, please click here.
Local Organizing Committee
-Marwan Abukhaled
-Ziyad AlSharawi  (Chair, [email protected] )
-Ayman Alzaatreh
-Sadok Kallel
-Issam Louhichi
Local Arrangements
-Diana Audi
-Saadia Khouyibaba
-Mujo Mesanovic
National Organizing Committee
-Mo'tassaem Al-Arydah, Khalifa University
-Qasem Al-Mdallel, UAE University
-Alberto Gandolfi, New York University Abu Dhabi
-Ali Jaballah, University of Sharjah
-Abdelwahab Kharab, Abu Dhabi University
-Linda Smail, Zayed University
-Haitham Solh, American University in Dubai



To present a talk, you need to submit an abstract of your talk before the deadline. Please take the following remarks into consideration when you prepare and submit the abstract:
Your abstract should not exceed one page, and the page should be without a page number.
You need to follow the selected format, which is available by downloading and unziping the file here.
Please send us your abstract in both LATEX and PDF formats.
Your abstract should be well written using correct English.
Please submit your abstract by email to 

[email protected]

. 
Please give us one week to acknowledge your submission. If have not received a response after one week, please contact us since your email might not have reached us.
Registration is Closed
Thank You for Registering