CAAD
> 16mm Filmmaking Workshop with Anna Kipervaser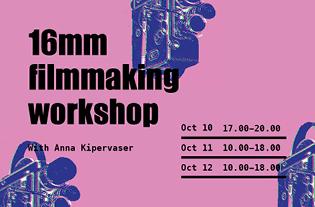 16mm Filmmaking Workshop with Anna Kipervaser
CAAD AD1-103
October 10, 2019 - October 12, 2019
17:00 - 20:00
closed entry
This three-day 16mm workshop will introduce interested participants to analogue filmmaking practices, lead by Anna Kipervaser.
Kipervaser is Visiting Assistant Professor of Art and Design Department at the College of Architecture, Art and Design.
October 10 17:00-20:00
October 11 10:00-18:00
October 12 10:00-18:00
For more information, please contact [email protected].