CAAD
> Material Practice by Frank Barkow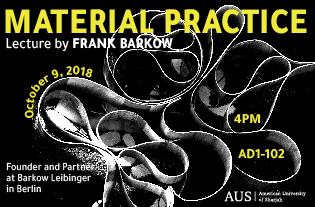 Material Practice by Frank Barkow
AD1 102 Lecture Hall, CAAD Building
October 9, 2018
16:00 - 17:00
The College of Architecture, Art and Design (CAAD) is honored to host special guest Frank Barkow, Founder and Partner at the award-winning Barkow Leibinger architectural practice in Berlin, Germany. 
Also an educator and researcher, Barkow has been a professor at the Princeton University School of Architecture since 2016, and has recently taught for the Harvard Graduate School of Design. Further teaching posts include, among others, the Architectural Association in London and Cornell University, USA. Barkow was educated at Montana State University, USA, and at the Harvard Graduate School of Design (GSD). 
Barkow will present on the work of his architectural practice.