About

Admissions

Academics

Life at AUS

.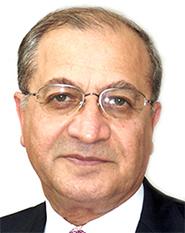 Vice Chairman, Clinton Group Inc., New York, USA
Dr. Hani Findakly, an investment banker, is Vice Chairman of the Clinton Group Inc. in New York. He has held senior financial positions, including, inter alia, Group Head of International Capital Markets, Drexel Burnham Lambert; Managing Director, Global Risk Management, PaineWeber Inc.; CEO, Potomac Babson Inc.; and, Chairman, Dillon Read Capital Management. Prior to Wall Street, Mr. Findakly was the Director of Investments and Chief Investment Officer of the World Bank Group. His early career was in academia as a member of the faculty at MIT, and as Organization of American States Visiting Professor at the Catholic University in Rio de Janeiro, Brazil.
He is a graduate of Baghdad University (BSc, Magna Cum Laude), and the Massachusetts Institute of Technology (MIT): Master of Science (SM, Systems Analysis) and Doctor of Science (ScD, Decision Theory).
Dr. Findakly serves on several corporate boards, including, inter alia, the Clinton Group, Inc. (NY), Sedco Capital (Jeddah, Saudi Arabia). He also serves on several public boards, including, inter alia, the US Department of State Advisory Committee on International Economic Policy; International Board, Peking University; International Advisory Board, American University of Cairo; Selection Committee, University of Maryland; International Board, Center for Middle East Studies, Harvard University; Board of Overseers, Sultan Qaboos Cultural Center; and the International Advisory Board, UCLA. He is also a Trustee of Sichuan University, and a Trustee of Sir Magdi Yakoub MYASWAN Foundation. He has served, inter alia, as President of the Arab Bankers Association of North America, a Governor of the Middle East Institute, a Director of the Arab American Bank, a Trustee of the UN International School (New York), and a member of the UNDP Committee on Private Finance for Development.
Dr. Findakly has written and lectured on global capital markets, risk management and corporate governance. A lifetime member of the Council on Foreign Relations, he is listed in Who's Who in America. He is a recipient of the Goulbenkian Foundation award; Sigma Xi (research excellence); Chi Epsilon (engineering excellence); and the 2009 Ellis Island Medal of Honor.