About

Admissions

Academics

Life at AUS

.
Profile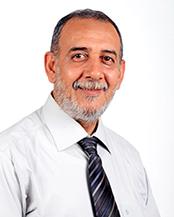 College / Department
Teaching areas
Chemical engineering measurements, Unit and operation at chemical engineering I & II, materials science, simulation, process dynamics and control, introduction to engineering, corrosion and wastewater projects
Research areas
Process dynamics and control Simulation, Wastewater & Water technologies, Corrosion and material science, Air pollution using bio-filtration and Renewable Energy.
Education
PhD, Chemical Engineering, Burgas University, Bulgaria, 2008
Master, Chemical Engineering, Burgas University, Bulgaria, 1987
Professional experience
Senior Lab Instructor, Chemical Engineering, AUS, Sharjah, United Arab Emirates, 1999 - Present
Contact
PhD, Burgas University, Bulgaria
Dr. Aidan joined AUS since 1999 to present. He was involved in establishing all Chemical Engineering labs including unit operation, fluid flow, heat transfer, corrosion and materials science, water treatment, and process control labs. He has long experience in obtaining laboratory equipment through his collaboration with other institutions. He accomplished installation and commissioning of all equipment in these labs. In addition, he prepared, helped and developed all lab experiments' handouts and operating manuals. During his career at AUS, he has taught several courses, namely; ...
Publications
Abdollah Karami, Reem Shomal, Rana Sabouni, Mohammad Al-sayah And Ahmed Aidan. Parametric Study of Methyl Orange Removal Using Metal--Organic Frameworks Based on Factorial Experimental Design Analysis, Energies, 2022
Maria Nassif, Rafia Talukder, Fizza Syed, Talha Syed, Kelly Percival, Ahmed Aidan And Zarook Shareefdeen. PAPER ID: 111: Carbon Dioxide Capture Using Algae with Innovative Bioreactor Technology, November 2022
Amani Al-othman, Rached Dhaouadi, Ahmed Aidan, Mohammad Tawalbeh And Rawan Zannerni. Novel Self-Cleaning Coatings based on Zirconium Phosphates for Solar Panels
Sameer Al-asheh, Marzieh Bagheri And Ahmed Aidan. Removal of Heavy Metals from Industrial Wastewater using Microbial Fuel Cell, Engineering In Life Sciences
Sameer Al-asheh, Ahmed Aidan, Rawan Abu Alwan, Dana Kadadou, Yousef Elzanaty, Maitha Ahli And Ghadeer Hegab. Study of Growth Rate of Tetraselmis striata Microalgae for Biofuel Production, 10th EUROPEAN CONFERENCE on RENEWABLE ENERGY SYSTEMS
Rasha Darra, Maryam Hammad, Fatma Alshamsi, Shatha Alhammadi, Waad Al-ali, Ahmed Aidan, Muhammad Tawalbeh, Neda Halalsheh And Amani Al-othman. Wastewater treatment processes and microbial community, 1 January (1st Quarter/Winter) 2022
Rached Dhaouadi, Amani Al-othman, Ahmed Aidan, Mohammad Tawalbeh And Rawan Zannerni. Novel Self-Cleaning Coatings for Solar Cells, 13 September 2021
Rached Dhaouadi, Amani Al-othman, Ahmed Aidan, Muhammad Tawalbeh And Rawan Zannerni. A characterization study for the properties of dust particles collected on photovoltaic (PV) panels in Sharjah, United Arab Emirates, Renewable Energy, 1 June 2021
Rached Dhaouadi, Amani Al-othman, Ahmed Aidan, Muhammad Tawalbeh And Rawan Zannerni. A characterization study for the properties of dust particles collected on photovoltaic (PV) panels in Sharjah, United Arab Emirates, Renewable Energy, 1 June 2021
Sameer Al-asheh, Yousef Al-assaf And Ahmed Aidan. Single-chamber microbial fuel cells' behavior at different operational scenarios, Energies, 19 October (4th Quarter/Autumn) 2020
Sameer Al-asheh And Ahmed Aidan. Regeneration of Ion Exchange Resin by Chemical Agents: Study of Operating Conditions and Optimization, Wastewater Treatment" In Iqbal Ahmed, August 2020
Muhammad Qasim, Faisal Khudhur, Ahmed Aidan And Naif Darwish. Ultrasound-assisted forward osmosis desalination using inorganic draw solutes, Ultrasonics Sonochemistry, 1 March 2020
Rana Sabouni, Ahmed Aidan, Aysha Alobeidli, Fatme Lahib, Hazem Husni Bacha, Rita Kassermally And Sarah Jarmakani. Adsorption kinetics and thermodynamics of Methylene Blue by HKUST-1, Desalination And Water Treatment, 2019
Rached Dhaouadi, Amani Al-othman, Ahmed Aidan, Muhammad Tawalbeh And Rawan Zannerni. A Characterization Study for the Properties of Dust Particles Collected on Photovoltaic Panels (PV) in the Area of Sharjah/ United Arab Emirates, November 2019
Sameer Al-asheh And Ahmed Aidan. Microbial Desalination Fuel Cell using Membrane Bioreactor as a sludge supplyer: Comparison between Immersed and Side stream Configurations, Desalination And Water Treatment, January (1st Quarter/Winter) 2019
Abdollah Karami, Rana Sabouni And Ahmed Aidan. Adsorptive Removal of Azo Dye Methyl Orange Using Metal Organic Frameworks (MOFs), November 2018
Faisal Mohammed, Muhammad Qasim, Ahmed Aidan And Naif Darwish. Measurement and correlation of isobaric binary vapor-liquid equilibria for water and 2-propanol each with 1-butyl-1-methypyrrolidinium chloride and 1-butyl-1-methylpyrrolidinium trifluoromethanesulfonate, Journal Of Molecular Liquids, 15 August 2018
Abdollah Karami, Rana Sabouni And Ahmed Aidan. Metal Organic Frameworks as a Promising Adsorbent for the Removal of Micropollutants (Methyl Orange), 21 April (2nd Quarter/Spring) 2018
Muhammad Qasim, Faisal Mohammed, Ahmed Aidan And Naif Darwish. Forward osmosis desalination using ferric sulfate draw solute, Desalination, 1 December 2017
Farid Abed, Ahmed Aidan, Taleb Ibrahim, Nouran Hegazi And Saif Al-dabagh. Preparation of a new AAC-concrete sandwich block and its compressive behavior at quasi-static loading, Engineering Transactions, 1 January (1st Quarter/Winter) 2017
Nabil Jabbar, Ahmed Aidan, H Razouk, N Chihadih, N Faraghat And Y El-tal. Biodiesel Production from Algal Oil- A Simulation Study, April (2nd Quarter/Spring) 2014
Raafat Alnaizy, Nabil Abdel Jabbar, Ahmed Aidan And Noor Abachi. Modeling and dynamic analysis of a membrane bioreactor with backwash scheduling, Desalination And Water Treatment, 2012
Conference Presentations
Novel Self Cleaning Coatings for Solar Cells, Seep2021 - 12th International Conference On Sustainable Energy & Environmental Protection, Vienna, Austria, 13 September 2021
Membrane Bioreactor-Desalination Microbial Fuel Cell, International Conference On Chemical And Biochemical Engineering (iccbe), 6 December 2019
DESIGN OF A DAIRY WASTEWATER TREATMENT PLANT, The 6th Putrajaya International Built Environment, Technology, And Engineering, April 2019
Adsorptive Removal of Azo Dye Methyl Orange Using Metal Organic Frameworks (MOFs), Icewes 2018, November 2018
Grants and sponsorships
Grant, FRG20-M-E38: Experimental Study of Membrane Biological Reactor for Domestic Wastewater Treatment: Operating Conditions, Optimization and Performance, American University of Sharjah, 1 April 2020 - 31 May 2022
Grant, The use of Wastewater & Recycled Demolition Wastes to Reduce Pollution in UAE; Utilization of Recycled Construction Materials Produced by CDW Unit/Beeah; and, Performance Evaluation of Recycled Crushed Concrete as Pavement Materials, Gulf Ecosystems Research (GER), 1 January 2015 - 31 December 2017