About

Admissions

Academics

Life at AUS

.
Profile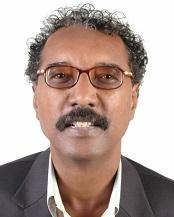 College / Department
Teaching areas
Digital design,Computer architecture, VLSI
Research areas
Power consumption in VLSI circuits, hardware description languages, FPGAs applications, Innovative uses of emerging technology
Education
PhD, Electrical/computer Engineering, University of Arizona, United States, 1989
MS, Electrical Engineering, Northwestern University, United States, 1984
Professional experience
American University Of Sharjah, Dept Of Computer Science And Engineering, American Unviersity of Sharjah, 2003 - Present
Memberships
Senior Member IEEE, International, August 2017
Contact
PhD, University of Arizona, United States
Assim Sagahyroon has taught at the University of Arizona, Northern Arizona University and California State University. He joined AUS in Fall 2003 and served as Head of the Department of Computer Science and Engineering from 2009 to 2016. During his tenure as a head, the computer science and computer engineering undergraduate programs were reaccredited by ABET and the Commission for Academic Accreditation of'the UAE Ministry of' Education, with the computer science ABET self-study report being selected as an exemplary study for display in ABET international workshops and conferences. In ...
Publications
Zahrasadat Solatidehkordi, Jayroop Ramesh, Michel Pasquier, Assim Sagahyroon And Fadi Aloul. A Survey of Machine Learning Approaches for Detecting Depression Using Smartphone Data, Ieee International Conference On Industry 4.0, Artificial Intelligence And Communications Technology, July (3rd Quarter/Summer) 2022
Mohammed Elnawawy, Assim Sagahyroon And Michel Pasquier. Power Prediction in Register Files Using Machine Learning, Ieee Access, May 2022
Sakib Shahriar, Jayroop Ramesh, Mohammed Towheed, Taha Ameen, Assim Sagahyroon And Abdulrahman Al-ali. Narrative Integrated Career Exploration Platform, (Journal), Frontiers In Education, March 2022
Yazan Jian, Michel Pasquier, Assim Sagahyroon And Fadi Aloul. Using Machine Learning to Predict Diabetes Complications, Ieee International Conference On Bio-engineering For Smart Technologies (biosmart), December 2021
Yazan Jian, Michel Pasquier, Assim Sagahyroon And Fadi Aloul. A Machine Learning Approach to Predicting Diabetes Complications, Healthcare, December 2021
M Ummar, Khafegy, Z Jamil, M Atallah, Fadi Aloul And Assim Sagahyroon. Smart Monitoring System for Stroke Rehabilitation, Ieee International Conference On Internet Of Things And Intelligence Systems (iotais), November 2021
Jayroop Ramesh, Zahra Solatidehkordi, Raafat Aburukba And Assim Sagahyroon. Atrial Fibrillation Classification with Smart Wearables Using Short-Term Heart Rate Variability and Deep Convolutional Neural Networks, Sensors, October (4th Quarter/Autumn) 2021
Jayroop Ramesh, Niha Keeran, Assim Sagahyroon And Fadi Aloul. Towards Validating the Effectiveness of Obstructive Sleep Apnea Classification from Electronic Health Records using Machine Learning, Healthcare, October (4th Quarter/Autumn) 2021
Jayroop Ramesh, Raafat Aburukba And Assim Sagahyroon. A remote healthcare monitoring framework for diabetes prediction using machine learning, Healthcare Technology Letters, 2 May 2021
Sameer Alawnah, Shayok Mukhopadhyay And Assim Sagahyroon. Universal Adaptive Stabilization-Based Trend Filtering for Impending Battery Voltage Collapse Detection, Ieee Control Systems Letters, 1 May 2021
Raafat Aburukba, Assim Sagahyroon, Loay Kamel, Abdulla Al-shamsi, Hussain Surti And Eisa Sajwani. Remote monitoring framework for elderly care home centers in UAE, 1 March 2021
A Osman, Assim Sagahyroon, Raafat Aburukba And Fadi Aloul. Optimization of Energy Consumption in Cloud Computing Datacenters, International Journal Of Electrical And Computer Engineering (ijece), February 2021
Tasneem Batool, Abuelnoor, Omar El Boutari, Fadi Aloul And Assim Sagahyroon. Predicting Hospital No-Shows using Machine Learning, Ieee International Conference On Internet Of Things And Intelligence System (iotais), February 2021
Mohammed Elnawawy, Fadi Aloul, Assim Sagahyroon, Ahmed Elwakil, Wafaa Sayed, Lobna Said, Sara Mostafa And Ahmed Radwan. FPGA Realizations of Chaotic Epidemic and Disease Models Including Covid-19, Ieee Access, January (1st Quarter/Winter) 2021
Fatma Zubaydi, Assim Sagahyroon, Fadi Aloul, Hasan Mir And Bassam Mahboub. Using Mobiles to Monitor Respiratory Diseases, Informatics, December 2020
Mohammed Elnawawy, Assim Sagahyroon And Tamer Shanableh. FPGA-based network traffic classification using machine learning, Ieee Access, September 2020
Mohammed Elnawawy, Assim Sagahyroon And Tamer Shanableh. FPGA-based network traffic classification using machine learning, Ieee Access, September 2020
M. Sadiq, D. Sankalpa, K. Ahfid, Assim Sagahyroon And Salam Dhou. Preliminary Melanoma Detection Mobile Application using Support Vector Machine Classification, August 2020
Muhammad Arshad, Sakib Shahriar And Assim Sagahyroon. On the Use of FPGAs to Implement CNNs: A Brief Review, 17 August 2020
A Ghosh, N Rahman, N Awadalla, Assim Sagahyroon, Fadi Aloul And Salam Dhou. Asthma Diagnosis Using Neuro-Fuzzy Techniques, Ieee International Conference On Engineering Innovations In Healthcare (eih), June 2020
M Tolba, A Elwakil, Hammam Orabi, M Elnawawy, Fadi Aloul, Assim Sagahyroon And A Radwan. FPGA Implementation of a Novel Chaotic Oscillator System With Odd and Even Symmetry, Integration, The Vlsi Journal, May 2020
Anwar Elsheikh, Bashayer Almarzooqi, Maryam Alsaedi, Ahmad Al Nabulsi, Abdulrahman Al-ali And Assim Sagahyroon. IoT-Based Vehicle Accident Monitoring and Reporting System (Conference), January (1st Quarter/Winter) 2020
Hammam Orabi, Mohammed El-nawawy, Assim Sagahyroon, Fadi Aloul, A. Wakil And A. Radwan. On the Implementation of a Rotated Chaotic Lorenz System on FPGA, Ieee Asia Pacific Conference On Circuits And Systems (apccas), January (1st Quarter/Winter) 2020
E Talab, O Mohamed, L Begum, Fadi Aloul And Assim Sagahyroon. Detecting Heart Anomalies Using Mobile Phones and Machine Learning, Ieee International Conference On Bioinformatics And Bioengineering (bibe), December 2019
Mohammed Elnawawy, Abid Farhan, Ahmad Al Nabulsi, Abdulrahman Al-ali And Assim Sagahyroon. Role of FPGA in Internet of Things Applications, 2019 Ieee International Symposium On Signal Processing And Information Technology (isspit), 2019
Mohammed Elnawawy, Abid Farhan, Ahmad Nabulsi, A. Al-ali And Assim Sagahyroon. Role of FPGA in Internet of Things Applications, 1 December 2019
W Sayed, A Radwan, M Elnawawy, Hammam Orabi, Assim Sagahyroon, Fadi Aloul, A Elwakil, H Fahmy And A Elsedeek. Two-Dimensional Rotation of Chaotic Attractors: Demonstrative Examples and FPGA Realization, Circuits, Systems, And Signal Processing (cssp), October (4th Quarter/Autumn) 2019
A Osman, Assim Sagahyroon, Raafat Aburukba And Fadi Aloul. Towards Energy Efficient Servers' Utilization in Datacenters, Intelligent Computing, Advances In Intelligent Systems And Computing (aisc), June 2019
Ahmed Osman, Assim Sagahyroon, Raafat Aburukba And Fadi Aloul. Towards Energy Efficient Servers' Utilization in Datacenters
Mohammed Elnawawy, Abid Farhan, Ahmed Mohamed, Assim Sagahyroon And Lotfi Romdhne. FPGA-based gait rehabilitation system, 2018
Raafat Aburukba, Assim Sagahyroon, Fadi Aloul And Niha Thodika. Brokering services for integrating health cloud platforms for remote patient monitoring, 9 November 2018
Yomna Omar, Abdullah Tasleem, Michel Pasquier And Assim Sagahyroon. Lung Cancer Prognosis System using Data Mining Techniques, January (1st Quarter/Winter) 2018
Fatma Zubaydi, Assim Sagahyroon, Fadi Aloul And Hasan Mir. MobSpiro: Mobile based spirometry for detecting COPD, 2017
Raafat Aburukba, Assim Sagahyroon And Mohammed Elnawawy. Remote patient health monitoring cloud brokering services, 2017
Assim Sagahyroon. Remote patients monitoring: Challenges, 2017
German Shein, Sankar Sathynaryanan, Assim Sagahyroon And Michel Pasquier. Sensors equipped mattress for assessing sleep apnea symptoms, 2017
Sameer Alawnah And Assim Sagahyroon. Modeling of smartphones' power using neural networks, Eurasip Journal On Embedded Systems, 1 December 2017
Assim Sagahyroon. MHealth: Sleeping Disorders Diagnosis, 2016
Heba Saleous, Anza Shaikh, Ragini Gupta And Assim Sagahyroon. Read2me: a cloud-based reading aid for the visually impaired, 2016
Haya Hasan, Basel Safieh, Fadi Aloul And Assim Sagahyroon. Diagnosing COPD using mobile phones, 2015
Fatma Zubaydi, Ayat Saleh, Fadi Aloul And Assim Sagahyroon. Security of mobile health (mHealth) systems, 2015
Sameer Alawnah And Assim Sagahyroon. Smartphones power, 2015
M Karunaratne And Assim Sagahyroon. A dynamic power estimation method for system on chip designs, Journal Of Low Power Electronics, 2015
Murad Qasaimeh, Assim Sagahyroon And Tamer Shanableh. FPGA-based parallel hardware architecture for real-time image classification, Ieee Transactions On Computational Imaging, 2015
Murad Qasaimeh, Assim Sagahyroon And Tamer Shanableh. A parallel hardware architecture for Scale Invariant Feature Transform (SIFT), 2014
Mamoun Al-mardini, Fadi Aloul, Assim Sagahyroon And Luai Al-husseini. Classifying obstructive sleep apnea using smartphones, Journal Of Biomedical Informatics, 2014
Assim Sagahyroon. Computer education in developing, 2013
Sameer Alawnah And Assim Sagahyroon. Modeling smartphones power, 2013
Mamoun Al-mardini, Fadi Aloul, Assim Sagahyroon And Luai Al-husseini. On the use of smartphones for detecting obstructive sleep apnea, 2013
Syed Zahidi, Fadi Aloul, Assim Sagahyroon And Wassim El-hajj. Optimizing complex cluster formation in MANETs using SAT/ILP techniques, Ieee Sensors Journal, 2013
Fadi Aloul, Assim Sagahyroon, Ali Nahle, M Dehn And Raneem Al Anani. GuideME: An effective RFID-based traffic monitoring system, 2012
Shamma Alqassim, Madhumeta Ganesh, Shaheen Khoja, Meher Zaidi, Fadi Aloul And Assim Sagahyroon. Sleep apnea monitoring using mobile phones, 2012
Syed Zahidi, Fadi Aloul, Assim Sagahyroon And Wassim El-hajj. Solving the clustering problem in MANETs using SAT \& ILP techniques, 2012
Syed Zahidi, Fadi Aloul, Assim Sagahyroon And Wassim El-hajj. Using SAT \& ILP techniques to solve enhanced ILP formulations of the Clustering Problem in MANETS, 2012
Assim Sagahyroon And Jamal Abdalla. Area and Timing Estimation in Register Files Using Neural Networks, Circuits And Systems, 2012
Assim Sagahyroon. Battery and Power Consumption of Pocket PCs., Jcp, 2012
Assim Sagahyroon And Jamal Abdalla. Dynamic and Leakage Power Estimation in Register Files Using Neural Networks, Circuits And Systems, 2012
Assim Sagahyroon, Geetha Lakkaraj And Maddu Karunaratne. Verification Components Reuse., Jcp, 2012
Fadi Aloul, Assim Sagahyroon, Nancy Salem, Omar Al-omar, Sahar Shehada And Bashar Al-rawi. M-stock: Efficient stock monitoring for mobile users, Journal Of The Franklin Institute, 2011
Assim Sagahyroon, Fadi Aloul, Ar Al-ali, Ms Bahrololoum, F Makhsoos And N Hussein. Monitoring patients' signs wirelessly, Journal Of Medical Imaging And Health Informatics, 2011
Assim Sagahyroon, Fadi Aloul And Alexander Sudnitson. Using SAT-based techniques in low power state assignment, Journal Of Circuits, Systems, And Computers, 2011
Assim Sagahyroon, Mohammed Eqbal And Farshad Khamisi. Drawing on the benefits of RFID and bluetooth technologies, 2010
Assim Sagahyroon, Fadi Aloul And Alexander Sudnitson. Low power state assignment using ILP techniques, 2010
Fadi Aloul And Assim Sagahyroon. Using SAT techniques in dynamic burn-in vector generation, 2010
Mehran Massoumi And Assim Sagahyroon. ASIC verification: Integrating formal verification with HDL-based courses, Computer Applications In Engineering Education, 2010
Huda Muhammad And Assim Sagahyroon. Virtual prototyping and performance analysis of two memory architectures, Eurasip Journal On Embedded Systems, 2010
Fadi Aloul, Assim Sagahyroon, A Al-shami, I Al-midfa And R Moutassem. Using mobiles for on campus location tracking, 2009
Assim Sagahyroon, Hazem Raddy, Ali Ghazy And Umair Suleman. Design and implementation of a wearable healthcare monitoring system, International Journal Of Electronic Healthcare, 2009
Assim Sagahyroon, H Rady, A Ghazy And U Suleman. A wireless healthcare monitoring platform, 2008
Assim Sagahyroon, Mohamed El-tarhuni And S Ibrahim. An FPGA Implementation of the Searcher Algorithm, 2008
Assim Sagahyroon, Mohamed El-tarhuni And S. Ibrahim. An FPGA Implementation of the Searcher Algorithm, 2008
S Da'na, Assim Sagahyroon, A Elrayes, Ar Al-ali And R Al-aydi. Development of a monitoring and control platform for PLC-based applications, Computer Standards \& Interfaces, 2008
Assim Sagahyroon, Abdulrahman Al-ali, F Sajwani, A Al-muhairi And E Shahenn. Assessing the feasibility of using RFID technology in airports, 2007
John Placer And Assim Sagahyroon. Design and Implementation of a VSL System, Intelligent Automation \& Soft Computing, 2007
Assim Sagahyroon And Fadi Aloul. Using SAT-based techniques in power estimation, Microelectronics Journal, 2007
Fadi Aloul And Assim Sagahyroon. Estimation of the weighted maximum switching activity in combinational CMOS circuits, 2006
Fadi Aloul, Assim Sagahyroon And Bashar Al Rawi. Exciting Stuck-Open faults in CMOS Circuits Using ILP Techniques, 2006
Fadi Aloul And Others. Maximum power-up current estimation in combinational CMOS circuits, 2006
Assim Sagahyroon. Power consumption in handheld computers, 2006
Ab Aljunaid, I Abuelmaaly And Assim Sagahyroon. Using ANN To Predict The Best HUB Location, 2006
Assim Sagahyroon And Ahmed Mohamed. Resizable translation storage buffers, Journal Of Circuits, Systems, And Computers, 2006
Maddu Karunaratne, Chamara Ranasinghe And Assim Sagahyroon. A dynamic switching activity generation technique for power analysis of electronic circuits, 2005
Assim Sagahyroon, G Lakkaraju And M Karunaratne. A functional verification environment, 2005
Maddu Karunaratne And Assim Sagahyroon. Cell Library Creation using ALF, Journal Of Computing And Information Technology, 2005
M Karunaratne, Assim Sagahyroon And A Weerakkody. An advanced library format for ASIC design, 2004
Assim Sagahyroon, Ma Jarah And A-am Hadi. Design and implementation of a low cost UAV controller, 2004
Assim Sagahyroon And T. Al-khudairi. FPGA-based acquisition of sensor data, 2004
Assim Sagahyroon And M Karunaratne. Impact of cache optimization techniques on energy management, 2004
Assim Sagahyroon And Maddu Karunaratne. Cell library creation using ALF, Cit. Journal Of Computing And Information Technology, 2004
Ahmed Mohamed And Assim Sagahyroon. A scheme for implementing address translation storage buffers, 2002
Assim Sagahyroon. Maximizing heat dissipation for burn-in testing, 2002
Assim Sagahyroon. From AHPL to VHDL: A course in hardware description languages, Ieee Transactions On Education, 2000
John Placer, Assim Sagahyroon And John Harper. CREATING AN INTELLIGENT VARIABLE SPEED LIMIT SYSTEM FOR RURAL HIGHWAYS., Surface Transportation Advances And Intelligent Transportation Systems, 1999
Assim Sagahyroon, J Placer, M Burmood And Mehran Massoumi. A VHDL-based simulation methodology for estimating switching activity in static CMOS circuits, 1998
John Placer And Assim Sagahyroon. Fuzzy variable speed limit device project, 1998
Ahmed Mohamed And Assim Sagahyroon. Group contexts: An architectural approach to virtual sharing, 1997
John Placer And Assim Sagahyroon. Object-oriented logic simulator for teaching and research, Computer Applications In Engineering Education, 1997
John Placer, Assim Sagahyroon And Mehran Massoumi. A framework for estimating maximum power dissipation in CMOS combinational circuits using genetic algorithms, 1996
Assim Sagahyroon And Mehran Massoumi. On the use of hardware description languages in teaching VLSI design courses, 1996
Assim Sagahyroon. Computer education in developing countries: the Sudan case, 1995
Assim Sagahyroon. An intelligence driven test system for detection of stuck-open faults in CMOS sequential circuits, 1989
Grants and sponsorships
Grant, Modeling the Dynamics of Diseases and Epidemics in Hardware, AUS FRG (1/6/2021 - 31/5/2022), 1 June 2021 - 31 May 2022
Grant, Modeling the Dynamics of Diseases and Epidemics in Hardware, American University of sharjah- FRG, 1 June 2021 - 31 May 2022
Grant, Autonomous Vehicle Detection and Monitoring System, Sandooq Al Watan, March 2019 - 20 December 2020
Grant, Aging Well with Smart Technology