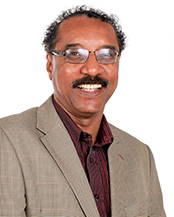 College / Department
Teaching areas
digital design,computer architecture, VLSI
Research areas
power consumption and testing of VLSI, hardware description languages, FPGAs, computer architecture, innovative uses of emerging technology
Education
PhD, University of Arizona, USA, 1989
MS, Northwestern University, USA, 1984
BS, Khartoum University, Sudan, 1981
Professional experience
American University of Sharjah, 2003 - present
Zhone Technolgy, USA, 2000-2001
California State University, USA, 1999 - 2003
Northern Arizona University, USA, 1993-1999
Professor and Associate Dean of Engineering
PhD, University of Arizona, USA
Assim Sagahyroon has taught at the University of Arizona, Northern Arizona University and California State University. He joined AUS in Fall 2003 and served as Head of the Department of Computer Science and Engineering from 2009 to 2016. During his tenure as a head, the computer science and computer engineering undergraduate programs were reaccredited by ABET and the Commission for Academic Accreditation of the UAE Ministry of  Education, with the computer science ABET self-study report being selected as an exemplary study for display in ABET international workshops and conferences. In industry, he worked with Zhone Technology in California. He has published in international conferences proceeding and journals. His teaching and research interests include digital systems design, power consumption in VLSI circuits, computer architecture, FPGA based solutions, innovative applications of emerging technologies, and medical informatics.
Publications
Karunaratne, Maddu, and Assim Sagahyroon. "A Dynamic Power Estimation Method for System on Chip Designs." Journal of Low Power Electronics 11, no. 4 (2015): 455-466.
M. Qasaimeh, A. Sagahyroon, T. Shanableh, "FPGA-based Parallel Hardware Architecture for Real-Time Image Classification",IEEE Transactions on Computational Imaging, Vol. I, No. 1, 2015
M. Al-Mardini, F. Aloul, and A. Sagahyroon, "Classifying Obstructive Sleep Apnea Using Smartphones,"Elsevier Journal of Biomedical Informatics 52, 2014
Sagahyroon, Assim. "Battery and Power Consumption of Pocket PCs." Journal of Computers 7, no. 1, 2012
A. Sagahyroon, F. Aloul, A. Sudnitson, Using SAT-Based Techniques in Low Power State Assignment; Journal of Circuits , Systems and Computers (JCSC), 20(8),2011 •A. Sagahyroon, F. Aloul, A. Al-Ali, M. Bahrololoum, F. Makhsoos, and N. Hussein,"Monitoring Patients' Signs Wirelessly", Journal of Medical Imaging and Health Informatics (JMIHI), 1(3), 2011
Zahidi, Syed, Fadi Alool, Assim Sagahyroon, and Wassim El-Hajj. "Optimizing Complex Cluster Formation in MANETs Using SAT/ILP Techniques." IEEE Sensors Journal, Vol. 13, No. 6,2013
"Virtual Prototyping and Performance Analysis of Two Memory Architectures",EURASIP Journal of Embedded Systems, Vol. 2009, Article 8, 2009 (with Huda S.Muhammad)
"Efficient Stock Monitoring for Mobile Users", Elsevier Journal of the Franklin Institute, 348, No. 7, 2011(with F. Aloul,N. Salem,O.Al-Omar, S.Shehada, B.Al-Rawi)
"Design and implementation of a wearable healthcare monitoring system", International Journal of Electronic Healthcare, Vol. 5, No. 1, 2009 (with H. Rady, A. Ghazy and U. Suliman)
"ASIC Verification: Integrating Formal Verification with HDL-Based Courses", Journal of Computer Applications in Engineering Education; Vol. 18, No. 2, 2010, Wiley Publishers(with M. Massoumi)
"Development of a Monitoring and Control Platform for PLC-Based Applications" Journal ofComputer Standards & Interfaces Vol. 30, No. 3, 2008; Elsevier Publishers (with S. Da'na, A. Alali, A. Elrayes, R. Ayadi)
"Using SAT-Based Techniques in Power Estimation" Microelectronics Journal; vol. 38, no. 6-7; Elsevier, 2007(with Fadi Aloul)
"Resizable Translation Storage Buffers", Journal of Circuits, Systems and Computers, Vol. 15, No. 2, April 2006(with A. Mohamed)
" Design and Implementation of a VSL System",Journal of Intelligent Automation and Soft Computing; vol. 12, no. x, 2006 (with J. Placer)
Conference Presentations
Alawneh, Sameer, and Assim Sagahyroon. "Modeling Smartphones Power." Proceedings of the 2013 the IEEE EUROCON, Zagreb, Croatia.
Al-Mardini, Mamoun, Fadi Aloul, and Assim Sagahyroon. "On the Use of Smartphones for Detecting Obstructive Sleep Apnea." Paper presented at the IEEE International Conference on Bioinformatics and Bioengineering (BIBE), Chania, Greece, 2013.
Qasaimeh, Murad, Assim Sagahyroon, and Tamer Shanableh. "A Parallel Hardware Architecture for Scale Invariant Feature Transform (SIFT)." Paper presented at the The 4th International Conference on Multimedia Computing and Systems (ICMCS'14),2014
?Using Mobiles for on Campus Location Tracking?7th ACM International Conference on Advances in Mobile Computing & Multimedia (MoMM), Kuala Lumpur, Malaysia, December 2009 (with F. Aloul, A. Al-Shami, I. Al-Midfa, and R. Moutassem)
?An FPGA Implementation of the Searcher Algorithm?, 4th IEEE Intl. Symposium on Electronic Design, Test and Applications, 2008, Hong Kong (with M. Tarhuni and S. Ibrahim)
?Using Wireless Sensors Network in Structures Health Monitoring?, the 4th IEEE GCC Conference, Bahrain, 2007 (with M.ShaShaa, O. Alsaman, J. Abdalla)
?Power Consumption in handheld computers?, Proceedings ofthe 2006 IEEE Asia-Pacific Conference on Circuits and Systems, Singapore, Dec. 2006
?Estimation of the Weighted Maximum Switching Activity in Combinational CMOS Circuits?, Proceedings ofthe 2006 IEEE International Symposium on Circuits and Systems, May 2006, Greece (with F. Aloul)
?Maximum Power-up Current Estimation in Combinational CMOS Circuits?, Proceedings of the 13th IEEE Mediterranean Electrotechnical Conference, May 2006, Spain (with F. Aloul)
Awards and Honors
Emirates Foundation Research Grant, 200,000 Dhs, 2008
American University of Sharjah Research Grant, 2004
"Fuzzy Variable Speed Limit Device" Arizona Department of Transportation,(Co-PI), $97,500, USA,1997
Hewlett-Packard Instructional Equipment Grant (PI), $26,400,USA, 1996
"The Integration of CAD into the Computer Engineering Curriculum", National Science Foundation (Co-PI),$200,000; USA,1993-1994