About

Admissions

Academics

Life at AUS

.
Profile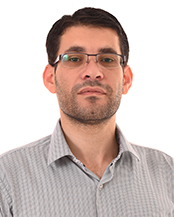 College / Department
Teaching areas
Statistics Data Science Operations Research
Research areas
Statistical Process Optimization Medical and Health Informatics
Education
PhD, Industrial Engineering, Pennsylvania State University, 2011
Master, Industrial Engineering, Arizona State University, 2008
BS, Industrial Engineering, Jordan University of Science and Technology, 2004
Professional experience
Associate Professor, Industrial Engineering Department, American University of Sharjah, Sharjah, United Arab Emirates, 2019 - Present
Associate Professor, Ie, Jordan University of Science and Technology, 2011 - 2018
Memberships
American Society for Quality (ASQ), ASQ, International, A knowledge-based global community of quality professionals, with more than 70,000 members dedicated to promoting and advancing quality tools, principles, and practices in their workplaces and communities., August 2009
Jordanian Engineers Association (JEA), JEA, National, November 2005
Contact
PhD, Pennsylvania State University,
I am an Associate Professor of Operations Research and Statistics at the Industrial Engineering Department at the American University of Sharjah (AUS). I hold a dual Ph.D degree in Industrial Engineering and Operations Research with a minor in Statistics from The Pennsylvania State University. My current research interests include statistical process optimization and health informatics. I have published more than fifty papers in highly reputable journals on health informatics and process control. I am an active reviewer for several journals including Journal of Quality Technology, Quality ...
Publications
Maymunah Fatani, Abdulrahim Shamayleh And Hussam Alshraideh. Prediction models for diagnosis and prognosis of covid-19 infection
Lubna Mahmood, Zied Bahroun, Mehdi Ghommem And Hussam Alshraideh. Assessment and performance analysis of machine learning techniques for gas sensing e-nose systems, Facta Universitatis Series: Mechanical Engineering, May 2022
Bayan Banimfreg, Hussam Alshraideh, Abdulrahim Shamayleh, Adnane Guella, Mohammed Semreen, Mohammed Albataineh And Nelson Soares. Un-targeted Metabolomic plasma profiling of Emirati dialysis patients with diabetes versus non-diabetic: a pilot study, Biomolecules
Syeda Mumtaz, Abdulrahim Shamayleh And Hussam Alshraideh. Improvement of Dialysis Dosing Using Big Data Analytics, Healthcare Informatics Research
Munir Abu-helalah, Hani Mustafa, Hussam Alshraideh, Abdullah Alsuhail, Omar A Almousily, Ruba Al-abdallah And Ashwaq Al Olayan. Quality of Life and Psychological Wellbeing of Colorectal Cancer Survivors in the KSA, Asian Pacific Journal Of Cancer Prevention, April (2nd Quarter/Spring) 2022
Bayan Banimfreg, Abdulrahim Shamayleh And Hussam Alshraideh. Survey for Computer-Aided Tools and Databases in Metabolomics, Metabolomics
Bayan Banimfreg, Abdulrahim Shamayleh, Hussam Alshraideh, Mohammed Semreen And Nelson Soares. Untargeted Approach to Investigating the Metabolomics Profile of T2DM Emiratis, Journal Of Proteomics
Mohammed Obeidat, Hussam Alshraideh, Abedallah Al Kader And Faisal Aqlan. An MRI Based Algorithm for Detecting Multiple Sclerosis, International Review On Modelling And Simulations, February 2022
Munir Abu-helalah, Hussam Alshraideh, Sameeh Al-sarayreh And Abdelfattah Al-hader. Transient high thyroid stimulating hormone and hypothyroidism incidence during follow up of subclinical hypothyroidism, Endocrine Regulations, December 2021
Bassam Mahboub, Mohammad T Al Bataineh, Hussam Alshraideh, Rifat Hamoudi, Laila Salameh And Abdulrahim Shamayleh. Prediction of COVID-19 hospital length of stay and risk of death using artificial intelligence-based modeling, Frontiers In Medicine, 2021
Afef Saihi And Hussam Alshraideh. Development of an autism screening classification model for toddlers, 8th International Conference On Computer Science, Engineering And Information Technology (cseit 2021), September 2021
Batool Madani And Hussam Alshraideh. Predicting Consumer Purchasing Decision in The Online Food Delivery Industry, 8th International Conference On Computer Science, Engineering And Information Technology (cseit 2021), September 2021
H Alzoubi, M Abu-helalah, Hussam Alshraideh And M Alkhasawneh. COVID-19 knowledge amongst dentists and evaluation of the dental infection prevention protocol, Jordan Medical Journal, September 2021
Hussam Alshraideh, Mu'men Rababah, Tarek Al-hawari And Omar Bataineh. A Gaussian process approach for monitoring autocorrelated batch production processes, Quality And Reliability Engineering International, July (3rd Quarter/Summer) 2021
Munir Abu-helalah, Belal Azab, Rasmi Mubaidin, Dema Ali, Hanan Jafar, Hussam Alshraideh, Nizar Drou And Abdalla Awidi. BRCA1 and BRCA2 genes mutations among high risk breast cancer patients in Jordan, Scientific Reports, October (4th Quarter/Autumn) 2020
Hussam Alshraideh, Enrique Del Castillo And Alain Del Val. Process control via random forest classification of profile signals: An application to a tapping process, Journal Of Manufacturing Processes, October (4th Quarter/Autumn) 2020
Munir Abu-helalah, Hussam Alshraideh, Sameeh Al-sarayreh, Al Shawabkeh, Ahmad Hassan Khalaf, Adel Nesheiwat, Nidal Younes And Abdelfattah Al-hader. A Cross-Sectional Study to Assess the Prevalence of Adult Thyroid Dysfunction Disorders in Jordan, Thyroid, 2019
Omar Bataineh, Tarek Al-hawari, Hussam Alshraideh And Dorid Dalalah. A sequential TPM-based scheme for improving production effectiveness presented with a case study, Journal Of Quality In Maintenance Engineering, 2019
Raid Al-aomar And Hussam Alshraideh. A service-oriented material management model with green options, Journal Of Cleaner Production, 2019
Hazem Smadi, Hussam Alshraideh And Wae'd Bataineh. Design of a supply chain distribution network for communicable diseases: Hepatitis A in Jordan as a case study, The International Journal Of Health Planning And Management, 2019
Mohammad Alyahya, Heba Hijazi, Hussam Alshraideh, Nihaya Al-sheyab, Dana Alomari, Sara Malkawi, Sarah Qassas, Samah Darabseh And Yousef Khader. Do modern family planning methods impact women's quality of life? Jordanian women's perspective, Health And Quality Of Life Outcomes, 2019
Nidal Younes, Raeda Abualrub, Hussam Alshraideh, Munir Abu-helalah, Sohaib Alhamss And Others. Engagement of Jordanian Physicians in Continuous Professional Development: Current Practices, Motivation, and Barriers, International Journal Of General Medicine, 2019
Tarek Al-hawari, Ahmed Naji, Hussam Alshraideh And Omar Bataineh. Extending the WEDBA to the fuzzy multi-criteria decision-making environment, International Journal Of Computer Applications In Technology, 2019
Ai Amaireh, Sh Al-jundi And Hussam Alshraideh. In vitro evaluation of microleakage in primary teeth restored with three adhesive materials: ACTIVA™, composite resin, and resin-modified glass ionomer, European Archives Of Paediatric Dentistry, 2019
Hussam Alshraideh, Heba Hijazi, Mohamad Jarrah, Mohammad Alyahya And Others. The use of echocardiographic and clinical data recorded on admission to simplify decision making for elective percutaneous coronary intervention: a prospective cohort study, Bmc Medical Informatics And Decision Making, 2019
Yiqiang Zhang, Hussam Alshraideh And Ali Diabat. A stochastic reverse logistics production routing model with environmental considerations, Annals Of Operations Research, 2018
Heba Hijazi, Heather Harvey, Mohammad Alyahya, Hussam Alshraideh, Rabah Al Abdi And Sanjai Parahoo. The Impact of Applying Quality Management Practices on Patient Centeredness in Jordanian Public Hospitals: Results of Predictive Modeling, Inquiry: The Journal Of Health Care Organization, Provision, And Financing, 2018
Hussam Alshraideh. Risk assessment of comorbidities on 30-day avoidable hospital readmissions among internal medicine patients, 2017
Heba Hijazi, Mohammad Alyahya, Hanan Hammouri And Hussam Alshraideh. Risk assessment of comorbidities on 30-day avoidable hospital readmissions among internal medicine patients, Journal Of Evaluation In Clinical Practice, 2017
Hussam Alshraideh And Hani Qdais. Stochastic modeling and optimization of medical waste collection in Northern Jordan, Journal Of Material Cycles And Waste Management, 2017
Mohammad Alyahya, Heba Hijazi, Hussam Alshraideh And Amjad Al-nasser. Using decision trees to explore the association between the length of stay and potentially avoidable readmissions: A retrospective cohort study, Informatics For Health And Social Care, 2017
Hussam Alshraideh, Amer Khayyat And Mwaffaq Otoom. Mode of Delivery Prognosis through Data Mining, 2016
Munir Abu-helalah, Hussam Alshraideh, Anas Abuseif, Kamal Arqoob, Abdelrahman Ajaj And Others. Delay in presentation, diagnosis and treatment for colorectal cancer patients in Jordan, Journal Of Gastrointestinal Cancer, 2016
Munir Ahmad Abu-helalah, Hussam Alshraideh, Mo'tasem Al-hanaqtah, Moh'd Da'na, Asim Al-omari And Rasmi Mubaidin. Delay in presentation, diagnosis, and treatment for breast cancer patients in Jordan, The Breast Journal, 2016
Mohammad Alyahya, Heba Hijazi, Hussam Alshraideh, Mohammad Alsharman, Rabah Al Abdi And Heather Harvey. Integrating the principles of evidence based medicine and evidence based public health: Impact on the quality of patient care and hospital readmission rates in Jordan, International Journal Of Integrated Care, 2016
Hussam Alshraideh, Hazem Smadi, Jalal Abo-taha And Obaidah Alomari. Reference Range Estimation: Accounting for Measurement System Errors, Quality And Reliability Engineering International, 2016
Mohammed Obeidat, Malgorzata Rys, Juan Du And Hussam Alshraideh. Selecting the Optimal Sheeting-Font Combination to Increase the Visibility of Roadway Guide Signs in the Presence of Glare, Iie Transactions On Occupational Ergonomics And Human Factors, 2016
Hani Qdais And Hussam Alshraideh. Selection of management option for solid waste from olive oil industry using the analytical hierarchy process, Journal Of Material Cycles And Waste Management, 2016
Tarek Al-hawari, Al-zoubi Ena'am S And Hussam Alshraideh. Studying the Effect of Facility Size on the Selection of Automated Guided Vehicle Flow Configurations, Journal Of Automation And Control Engineering Vol, 2016
Doraid Dalalah, Wasfi Al-rawabdeh And Hussam Alshraideh. The beta stochastic utility ($\beta$-SU), Stochastic Analysis And Applications, 2016
Hussam Alshraideh And Enas Khatabeh. A Gaussian process control chart for monitoring autocorrelated process data, Quality Control And Applied Statistics, 2015
Hussam Alshraideh, Mwaffaq Otoom, Aseel Al-araida, Haneen Bawaneh And Bravo, Jos\'e. A web based cardiovascular disease detection system, Journal Of Medical Systems, 2015
Munir Abu-helalah, Hussam Alshraideh, Ala-aldeen Al-serhan, Adel Issa, Nesheiwat, Muhammad Da'na, Ahmad Al-nawafleh And Samar Burgan. Current Tobacco use, Anti-smoking campaigns, and support Available for smokers in Jordan, Advances In Bioresearch, 2015
Munir Abu-helalah, Hussam Alshraideh, Ala-aldeen Al-serhan, Adel Nesheiwat, Ahmad Al-nawafleh And Others. Epidemiology, attitudes and perceptions toward cigarettes and hookah smoking amongst adults in Jordan, Environmental Health And Preventive Medicine, 2015
Hamed Alzoubi, Munir Abu-helalah, Al-zu'bi, Ahmad Y, Al-ma'aitah, Oday Z, Tariq Dalbah, Hussam Alshraideh And Amin Aqel. Food Safety Perception and Practices among University Students in Jordan, Journal Of Pure And Applied Microbiology, 2015
Munir Abu-helalah, Hussam Alshraideh, Aa Al-serhan, Mariana Kawaleet And Adel Nesheiwat. Knowledge, barriers and attitudes towards breast cancer mammography screening in Jordan, Asian Pac J Cancer Prev, 2015
Mwaffaq Otoom, Hussam Alshraideh, Hisham Almasaeid, L\'opez-de-ipi\~na, Diego And Bravo, Jos\'e. Real-time statistical modeling of blood sugar, Journal Of Medical Systems, 2015
Munir Abu-helalah And Hussam Alshraideh. RESEARCH PARTICIPATION AMONG MEDICAL STUDENTS IN JORDAN: RATES, ATTITUDES, AND BARRIERS, International Journal Of Academic Research, 2015
Mwaffaq Otoom, Hussam Alshraideh, Hisham Almasaeid, L\'opez-de-ipina, Diego And Bravo, Jos\'e. E-Smart Real-Time Blood Sugar Administration, 2014
Hussam Alshraideh And Enrique Del Castillo. Gaussian process modeling and optimization of profile response experiments, Quality And Reliability Engineering International, 2014
Jameel Hijazeen, Munir Abu-helalah, Hussam Alshraideh, Omar Alrawashdeh, Fadi Hawa, Tariq Dalbah And Fadi Abdallah. Knowledge, attitudes, and beliefs about epilepsy and their predictors among university students in Jordan, Epilepsy \& Behavior, 2014
Hussam Alshraideh And George Runger. Process monitoring using hidden Markov models, Quality And Reliability Engineering International, 2014
Munir Abu-helalah, Motasem Al-hanaqta, Hussam Alshraideh, Nada Abdulbaqi And Jameel Hijazeen. Quality of life and psychological well-being of breast cancer survivors in Jordan, Asian Pac J Cancer Prev, 2014
Mwaffaq Otoom, Hussam Alshraideh, Hisham Almasaeid, L\'opez-de-ipi\~na, Diego And Bravo, Jos\'e. A Real-Time Insulin Injection System, 2013
Hussam Alshraideh And Enrique Castillo. Statistical performance of tests for factor effects on the shape of objects with application in manufacturing, Iie Transactions, 2013
Enrique Del Castillo, Bianca Colosimo And Hussam Alshraideh. Bayesian modeling and optimization of functional responses affected by noise factors, Journal Of Quality Technology, 2012
Hussam Alshraideh. Analysis and Optimization of Profile and Shape Response Experiments, 2011
Hussam Alshraideh And Enrique Del Castillo. Statistical performance of tests for mean shape difference with application in manufacturing, 2009
Hussam Alshraideh. Time Series Quality Data Modeling Using Hidden Markov Models, 2007
Grants and sponsorships
Grant, Assessment of Machine Learning Models for Liquidity and Stock Market Predictions, American University of Sharjah, June 2022 - May 2025
Grant, ESTIMATION OF REMAINING USEFUL LIFE OF CUTTING TOOLS USING MACHINE EARNING & HEALTH INDEX SIMILARITY APPROACH, American University of Sharjah (NOT FUNDED), June 2022 - May 2023
Grant, Biomarker Discovery in Healthcare Utilizing Big Data Gadgets – The Case of Diabetes in The United Arab Emirates, American University of Sharjah, 1 June 2020 - 31 May 2022
Grant, MACHINE LEARNING, LIQUIDITY, AND STOCK MARKET PREDICTIONS, AUS
Sponsored Research, SEWA Business Intelligence proposal, SEWA, June 2020