About

Admissions

Academics

Life at AUS

.
Profile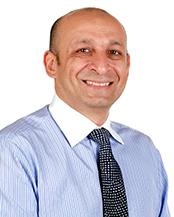 College / Department
Teaching areas
Deep Learning,Low-Cost Hardware/Software Co-Design, Internet of Things
Research areas
Internet of Things, Deep Learning, Big Data, Educational Analytics
Education
PhD, Computer Science, University of Minnesota, Twin Cities, United States, 1991
Bachelor, Computer Science (high Distinction), University of Minnesota, Minneapolis, United States, 1983
Professional experience
Assistant Professor Of Computer Engineering, Pennsylvania State University, Pennsylvania, United States, 1992 - 2004
Chief Technology Officer, Knowledge Platform Inc., Singapore, 2001 - 2003
Chief Executive Officer, Askari Information Systems Limited, Islamabad, Pakistan, 1998 - 2000
Principal Software Design Engineer, Acroloop Motion Control Systems Inc., MN, United States, 1994 - 1998
Post-doctoral Research Associate, Carlson School Of Management, University of Minnesota,, Minneapolis, United States, 1991 - 1992
Contact
Imran Zualkernan has taught at the University of Minnesota and Pennsylvania State University. He has held C-Level positions in various startup companies. His current research interests include ubiquitous tangible learning systems, wearable learning, and adoption and alignment models for learning technologies. He has published over 170 papers in refereed conference proceedings and journals.
Publications
Fadi Aloul, Imran Zualkernan, Nada Abdalgawad, Lana Hussain And Dara Sakhnini. Network Intrusion Detection on the IoT Edge Using Adversarial Autoencoders, 10th Ieee International Conference On Information Technology (icit)
Ali Sajun, Salsabeel Shapsough, Imran Zualkernan And Rached Dhaouadi. Edge-Based Individualized Anomaly Detection in Large-Scale Distributed Solar Farms, Ict Express Journal
Salsabeel Shapsough, Imran Zualkernan, Rached Dhaouadi, Yi-bing Lin And Der-jiunn Deng. Deep Learning at the Edge for Operation and Maintenance of Large-Scale Solar Farms, March 2021
Salsabeel Shapsough, Imran Zualkernan, Rached Dhaouadi And Ali Sajun. Using Siamese Networks to Detect Shading on the Edge of Solar Farms, December 2020
Salsabeel Shapsough, Imran Zualkernan, Kuinam Kim And Hye-young Kim. Designing an Edge Layer for Smart Management of Large-Scale and Distributed Solar Farms, 2020
Imran Zualkernan, Salam Dhou, Jacky Judas, Ali Sajun, Brylle Gomez, Lana Hussain And Dara Sakhnini. Towards an IoT-based Deep Learning Architecture for Camera Trap Image Classification, 12 December 2020
Imran Zualkernan, Jacky Judas, Taslim Mahboob, Azadan Bhagwagar And Priyanka Chand. A Tiny CNN Architecture for Identifying Bat Species from Echolocation Calls, Ieee / Itu International Conference On Artificial Intelligence For Good, September 2020
Imran Zualkernan, Jacky Judas, Taslim Mahbub, Azadan Bhagwagar And Priyanka Chand. AIoT System for Bat Species Classification, The 2021 International Conference On Internet Of Things And Intelligent Systems (iotais), September 2020
Imran Zualkernan And Mohmmad Khan. Towards an Audio-Based CNN for Classroom Observation on a Smartwatch, Ieee / Itu International Conference On Artificial Intelligence For Good, September 2020
Ragini Gupta, Abdulrahman Al-ali, Imran Zualkernan And Sajal Das. Big Data Energy Management, Analytics and Visualization for Residential Areas, Ieee Access, August 2020
Imran Zualkernan, Fadi Aloul, E. Algebail, A Ali, M El Refaay And O El Sabaa. Little Genius: An Experiment in Internet of Tangible Learning Things, 20th Ieee International Conference On Advanced Learning Technologies (icalt), August 2020
Salsabeel Shapsough And Imran Zualkernan. A Generic IoT Architecture for Ubiquitous Context-Aware Learning, Ieee Transactions On Learning Technologies, 1 July (3rd Quarter/Summer) 2020
Salsabeel Shapsough, Mohannad Takrouri, Rached Dhaouadi And Imran Zualkernan. An IoT-based remote IV tracing system for analysis of city-wide solar power facilities, Sustainable Cities And Society, 1 June 2020
Salsabeel Shapsough And Imran Zualkernan. A Generic IoT Architecture for Ubiquitous Context-Aware Learning, Ieee Transactions On Learning Technologies
Muhammad Arshad, Salsabeel Shapsough, Imran Zualkernan And Rached Dhaouadi. A Minimal Neural Network Model to Predict Power Loss due to Soiling in Stable Environments, 2 April (2nd Quarter/Spring) 2020
Fadi Aloul, Imran Zualkernan, Shams Shapsough And Mohammed Towheed. A Monitoring and Control Gateway for IoT Edge Devices in Smart Home, 34th Ieee International Conference On Information Networking (icoin), March 2020
Imran Zualkernan And M. Towheed. Computational Offloading of Convolutional Neural Network on a Smart Watch, February 2020
M. Khan And Imran Zualkernan. Using Convolutional Neural Networks for Smart Classroom Observation, February 2020
Imran Zualkernan, Fadi Aloul, V. Sakkia, H. Al Nomanv, S. Sowdagar And O. Alhammadi. An IoT-based Emergency Evacuation System, Ieee International Conference On Internet Of Things And Intelligence System (iotais), February 2020
Imran Zualkernan, Michel Pasquier, S. Shahriar, M. Towheed And S. Sujith. Using BLE beacons and Machine Learning for Personalized Customer Experience in Smart Cafés, January (1st Quarter/Winter) 2020
Muhammad Arshad, Salsabeel Shapsough, Imran Zualkernan, Rached Dhaouadi And Mohannad Takrouri. A minimal neural network model to predict power loss due to soiling in stable environments, 1 January (1st Quarter/Winter) 2020
Fadi Aloul, Imran Zualkernan, Shams Shapsough And Mohammed Towheed. A Monitoring and Control Gateway for IoT Edge Devices in Smart Home, 1 January (1st Quarter/Winter) 2020
Salsabeel Shapsough, Rached Dhaouadi, Imran Zualkernan And Mohannad Takrouri. Power Prediction via Module Temperature for Solar Modules Under Soiling Conditions, 1 January (1st Quarter/Winter) 2020
Salsabeel Shapsough, Imran Zualkernan, N. Jeyanthi, Ajith Abraham And Hamid Mcheick. IoT for Ubiquitous Learning Applications: Current Trends and Future Prospects, 2019
Salsabeel Shapsough, Rached Dhaouadi And Imran Zualkernan. "Using Linear Regression and Back Propagation Neural Networks to Predict Performance of Soiled PV Modules", Procedia Computer Science, 2019
Salsabeel Shapsough, Rached Dhaouadi, Imran Zualkernan And Mohannad Takrouri. Power Prediction via Module Temperature for Solar Modules Under Soiling Conditions, 27 November 2019
Salsabeel Shapsough And Imran Zualkernan. Requirements for an IoT Middleware for Utility-Scale Distributed Solar Farms, 1 October (4th Quarter/Autumn) 2019
Salsabeel Shapsough, Rached Dhaouadi And Imran Zualkernan. Using Linear Regression and Back Propagation Neural Networks to Predict Performance of Soiled PV Modules, August 2019
N. Takiddeen And Imran Zualkernan. Smartwatches as IoT Edge Devices: A Framework and Survey, June 2019
Nour Takiddeen And Imran Zualkernan. Smartwatches for Context-Aware Ubiquitous Learning, 22 May 2019
Ragini Gupta, Abdulrahman Al-ali, Imran Zualkernan And Sajal Das. Energy Big Data Management, Analytics and Visualization for Residential Areas, Ieee Transactions On Consumer Electronics
Salsabeel Shapsough And Imran Zualkernan. Using Machine Learning to Automate Classroom Observation for Low-Resource Environments, 3 January (1st Quarter/Winter) 2019
Salsabeel Shapsough, Mohannad Takrouri, Rached Dhaouadi And Imran Zualkernan. An MQTT-Based Scalable Architecture for Remote Monitoring and Control of Large-Scale Solar Photovoltaic Systems, 1 January (1st Quarter/Winter) 2019
Salsabeel Shapsough And Imran Zualkernan. Designing an Edge Layer for Smart Management of Large-Scale and Distributed Solar Farms, 1 January (1st Quarter/Winter) 2019
Salsabeel Shapsough, Rached Dhaouadi And Imran Zualkernan. Using linear regression and back propagation neural networks to predict performance of soiled PV modules, 1 January (1st Quarter/Winter) 2019
Salsabeel Shapsough, Mohannad Takrouri, Rached Dhaouadi And Imran Zualkernan. "Using IoT and smart monitoring devices to optimize the efficiency of large-scale distributed solar farms", Wireless Networks, 19 December 2018
Salsabeel Shapsough, Mohannad Takrouri, Rached Dhaouadi And Imran Zualkernan. Online Monitoring and Evaluation of PV Soiling Using a Smart IoT-based IV Tracer, 13 November 2018
Salsabeel Shapsough And Imran Zualkernan. A Generic IoT Architecture for Ubiquitous Context-aware Assessments, October (4th Quarter/Autumn) 2018
S. Shapsough And Imran Zualkernan. Using Machine Learning to Automate Classroom Observation for Low-Resource Environments, October (4th Quarter/Autumn) 2018
Salsabeel Shapsough And Imran Zualkernan. A generic IoT architecture for ubiquitous context-aware assessments, 26 October (4th Quarter/Autumn) 2018
Imran Zualkernan, Fadi Aloul, S. Qasimi, A. Alshamsi, M. Marashda And A. Ahli. DigiMesh-based Social Internet of Vehicles (SIoV) for Driver Safety, September 2018
S. Shapsough, Fadi Aloul And Imran Zualkernan. Securing Low-Resource Edge Devices for IoT Systems, September 2018
Salsabeel Shapsough, Mohannad Takrouri, Rached Dhaouadi And Imran Zualkernan. An MQTT-Based Scalable Architecture for Remote Monitoring and Control of Large-Scale Solar Photovoltaic Systems, July (3rd Quarter/Summer) 2018
Salsabeel Shapsough, Mohannad Takrouri, Rached Dhaouadi And Imran Zualkernan. An MQTT-Based Scalable Architecture for Remote Monitoring and Control of Large-Scale Solar Photovoltaic Systems, 11 July (3rd Quarter/Summer) 2018
W. Khan And Imran Zualkernan. SensePods: A ZigBee-Based Tangible Smart Home Interface, Ieee Transactions On Consumer Electronics, May 2018
Imran Zualkernan, Fadi Aloul, F. Basheer, G. Khera And S. Srinivasan. Intelligent accident detection classification using mobile phones, January (1st Quarter/Winter) 2018
Salsabeel Shapsough, Mohannad Takrouri, Rached Dhaouadi And Imran Zualkernan. Using IoT and smart monitoring devices to optimize the efficiency of large-scale distributed solar farms, 1 January (1st Quarter/Winter) 2018
Abdulrahman Al-ali, Imran Zualkernan, Mohammed Rashid, Ragini Gupta And Mazin Alikarar. A Smart Home Energy Management System Using IoT and Big Data Analytics Approach, Ieee Transactions On Consumer Electronics, 1 November 2017
A. Al-ali, Imran Zualkernan, Mohammed Rashid, Ragini Gupta And Mazin Alikarar. A smart home energy management system using IoT and big data analytics approach, Ieee Transactions On Consumer Electronics, 1 November 2017
Salsabeel Shapsough And Imran Zualkernan. A Voice-Based Mobile System for Generating Stallings-Type Class Observations, 3 August 2017
S. Shapsough And Imran Zualkernan. A Voice-Based Mobile System for Generating Stallings-Type Class Observations, July (3rd Quarter/Summer) 2017
M. Al-soh And Imran Zualkernan. An MQTT-Based Context-Aware Wearable Assessment Platform for Smart Watches, July (3rd Quarter/Summer) 2017
Imran Zualkernan. Using EGRA Data to Automatically Generate Teaching and Training Advice for Teachers in Developing Countries, July (3rd Quarter/Summer) 2017
Imran Zualkernan, Fadi Aloul, S. Shapsough, A. Hesham And Y. El-khorzaty. Emotion recognition using mobile phones, Computers \& Electrical Engineering, May 2017
Salsabeel Shapsough, Mahitab Hassan, Shams Shapsough And Imran Zualkernan. IoT technologies to enhance precision and response time of mobile-based educational assessments, 17 March 2017
S. Shapsough, Mohamed Hassan, S. Shapsough And Imran Zualkernan. IoT Technologies to Enhance Precision and Response Time of Mobile-Based Educational Assessments, December 2016
Imran Zualkernan. An MQTT-based just-in-time curriculum feedxback system, 2016
Imran Zualkernan. Designing Star Schemas for Assessment Educational Analytics Using Bronfenbrenner's Ecological Systems Theory, 2016
Ammar Mohammed, L. Hiny, S. Asal And Imran Zualkernan. Evaluating Classroom Activities Using Low-cost Sensors and IoT Technlogies, 2016
Imran Zualkernan. Internet of Things and Big Data Analytics to Establish Fidelity in Educational Intervensions, 2016
Imran Zualkernan And A. Karim. Using Pentaho to implement an end-to-end educational analytics process in a developing country, Edulearn16 Proceedings, 2016
H. Helal, H. Ibrahim, S. Irshad And Imran Zualkernan. Using Wearable to Gauage Level of Fitness of Students in the UAE, 2016
Maryam Raji And Imran Zualkernan. A Decision Tool for Selecting a Sustainable Learning Technology Intervention, Educational Technology \& Society, 2016
S. Shapsough, A. Hesham, Y. Elkhorazaty, Imran Zualkernan And Fadi Aloul. Emotion recognition using mobile phones, September 2016
A. Al-ali, Murad Qasaimeh, Mamoun Al-mardinia, Suresh Radder And Imran Zualkernan. ZigBee-based irrigation system for home gardens, 6 April (2nd Quarter/Spring) 2015
K Eksheir, Imran Zualkernan And Sajid Khan. Adoption of a Learning Management System: A Case Study in the Higher Education, 2012
Imran Zualkernan, Michel Pasquier, Maram Jibreel, Rim Zakaria And Rawan Tayem. An adaptive learning RPG game-engine based on knowledge spaces, June 2010
Alya Alhammadi, Imran Zualkernan And Rana Ahmed. Impediments to adoption of e-Learning technology in combating anti-money laundering in UAE banks, 7th Ieee International Conference On Advanced Learning Technologies (icalt'2007), Niigata, Japan,, July (3rd Quarter/Summer) 2007
Conference Presentations
Securing the IoT Edge, Innovation Day, Dubai, 21-feb-2019., 21 February 2019
Harnessing Emerging Technologies in the Development of Educational Curricula, 20 November 2018
Grants and sponsorships
Grant, Exploring Consistency-based Semi-supervised Learning for Stallings using Audio Data, American University of Sharjah, 1 June 2021 - 31 May 2022
Grant, Deep Learning for Automating Classroom Observations, American University of Sharjah, 1 June 2020 - 31 May 2021
Grant, Using IoT and Big Data to Monitor Large-scale Distributed Solar Farms in Smart Cities, Smart City Research Institute (SCRI) Grant 2018, 1 January 2019 - 31 December 2020
Grant, A Comparison of Big Data Architectures for Smart Energy, FRG2-AUS, 1 September 2017 - 31 May 2020
Sponsored Research, Exploring Edge Mining for Context-Aware Ubiquitous Learning using Smart Watches, American University of Sharjah, 1 June 2018 - 31 May 2019
Awards and Honors
Best paper award: "Towards an Audio-Based CNN for Classroom Observation on a Smartwatch," IEEE / ITU International Conference on Artificial Intelligence for Good 21 – 23 September 2020. Best paper award., IEEE/ITU, September 2020
Best short paper award: Little Genius: An Experiment in Internet of Tangible Learning Things," 20th IEEE International Conference on Advanced Learning Technologies (ICALT), Tartu, Estonia, July 2020., IEEE, July 2020
IEEE Consumer Electronics Society Chester Sall Award for the First place best paper in the IEEE Transactions on Consumer Electronics 2018., IEEE, This award is given to the best paper for one year from among all the papers in IEEE Transactions on Consumer Electronics. , 31 October 2019
Web-2.0 Investigations for Game-based Learning for Agile Software, IBM, 7 September 2009