About

Admissions

Academics

Life at AUS

.
Profile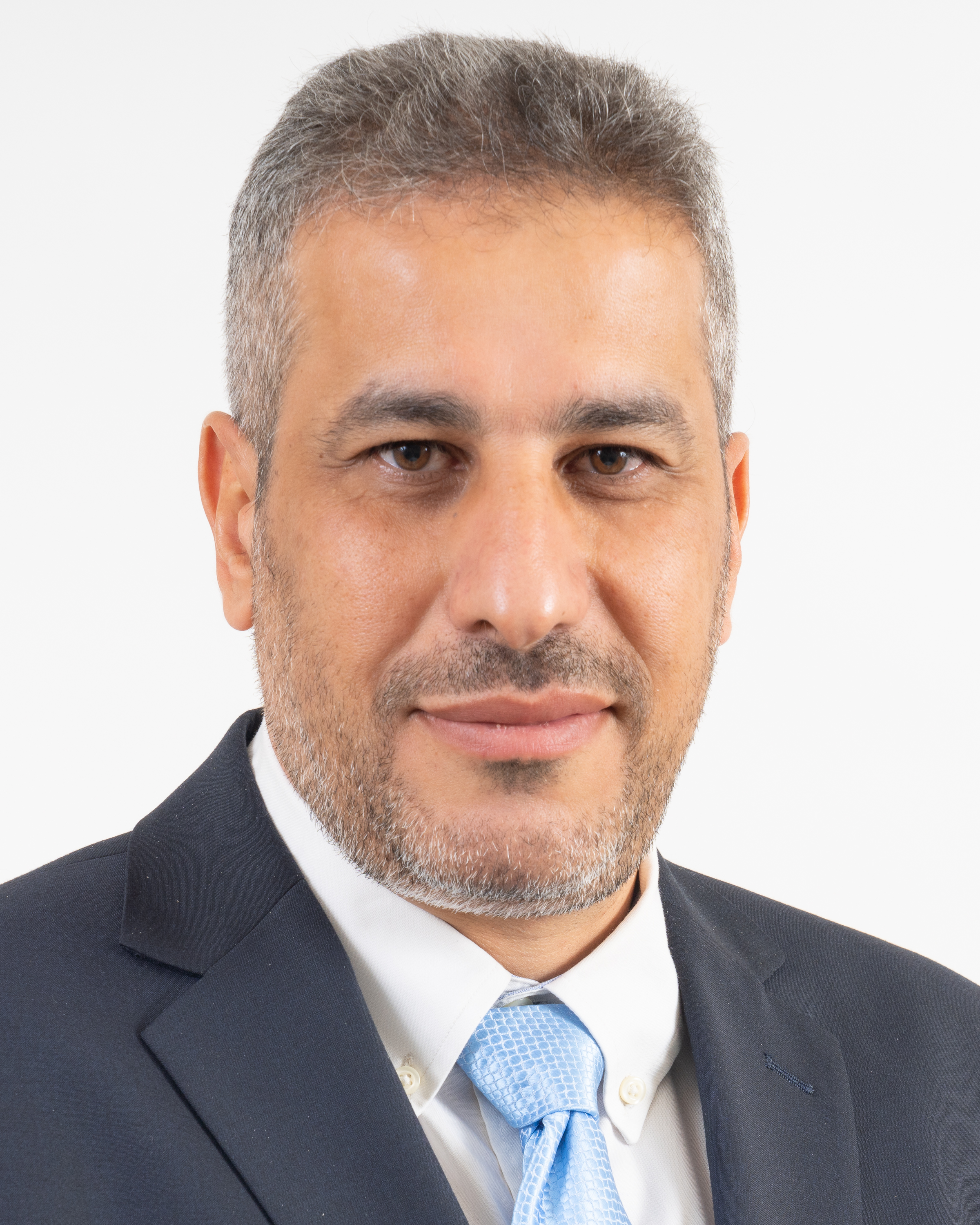 College / Department
Teaching areas
Quality Engineering, Six Sigma, Reliability and Maintenance, Engineering Management,Research Methodologies, Design of Experiments
Research areas
Six Sigma, Fault Detection, Reliability Engineering, Reliability Centered Maintenance, Quality Engineering
Education
PhD, Industrial Engineering, Wayne State University, United States, 2005
MS, Industrial Engineering, University of Jordan, 1999
BS, Mechanical Engineering-production, Jordan University of Science and Technology, 1996
Professional experience
Senior Reliability Engineer Iii, Schlumberger Technology Corporation, TX, United States, 2011 - 2014
Assistant Professor, ALHOSN University, United Arab Emirates, 2008 - 2011
Six Sigma Master Black Belt/quality Manager, Case New Holland, IL, United States, 2007 - 2008
Reliability Engineer/process Control Engineer, Ford Motor Company, MI, United States, 2002 - 2006
Workshop Supervisor, Al-Jazirah Vehicles Agencies Company, Saudi Arabia, 1998 - 2000
Workshop Supervisor, CIC Ford and Suzuki Dealership, Jordan, 1997 - 1999
Memberships
American Society of Quality, Milwaukee, WI, USA, April 2002 - November 2014
Institute of Industrial Engineers, Norcross, GA, USA, December 2008 - August 2011
Society of Automotive Engineers (SAE), Detroit, Mi, USA, December 2002 - December 2003
Contact
PhD, Wayne State University, United States
Mahmoud Awad has more than fifteen years of industrial experience. Prior to academia, he worked at Ford Motor Company, Case New Holland (CNH) and Schlumberger Technology in different technical and management capacities. He also worked as an assistant professor and chair of the Industrial Engineering Department at AlHosn University in Abu Dhabi. His research interests include Design for Six Sigma (DFSS), reliability allocation, Prognostic Health Management (PHM), and Centered based Maintenance (RCM).
Publications
Noha Hassan, Zied Bahroun, Mahmoud Awad, Rami Asa'd And Assil Charkaoui. Enhancing Toughness of Fiber Reinforced Plastic Composites using Nano-Materials, 12th Annual International Conference On Industrial Engineering And Operations Management, Istanbul, Turkey, March 7-10, 2022
Ahmad Alsaghir, Mohammad Hamdan, Mehmet Orhan And Mahmoud Awad. Numerical and Sensitivity Analyses of Various Design Parameters to Maximize Performance of a Vortex Tube, International Journal Of Thermofluids, 2022
Mohamed Al Zarooni, Mahmoud Awad And Ayman Alzaatreh. Confirmatory factor analysis of work-related accidents in UAE, Safety Science
Natali Barakat, Mahmoud Awad And Bassam Abu-nabah. A Machine Learning Approach on Chest X-rays for Pediatric Pneumonia Detection, Informatics In Medicine Unlocked
Haneen Abuzaid, Mahmoud Awad And Abdulrahim Shamayleh. Impact of Dust Accumulation on Photovoltaic Panels: A Review Paper, International Journal Of Sustainable Engineering
Haneen Abuzaid, Mahmoud Awad And Abdulrahim Shamayleh. Impact of Dust Accumulation on Photovoltaic Panels: A Review Paper, International Journal Of Sustainable Engineering
Neveen Barakat, Liana Hajeir, Zain Hussain, Sara Alattal And Mahmoud Awad. Air Leaks Fault Detection in Maintenance Using Machine Learning, Journal Of Quality In Maintenance Engineering
Mahmoud Awad And Ali Ebraheem. On-Line Roughness Fault Detection Using Current Profile Measurement, Rams 2022, The 68th Annual Reliability & Maintainability Symposium, Jan 24-27, 2022,
Afef Saihi, Mahmoud Awad And Mohamed Ben-daya. Quality 4.0: Leveraging Industry 4.0 technologies to improve quality management practices, International Journal Of Quality & Reliability Management
Mehmet Ertem, Rami As'ad, Mahmoud Awad And Abdulrahman Al-bar. Workers-constrained shutdown maintenance scheduling with skills flexibility: models and solution algorithms, Computers And Industrial Engineering
Mohammad Alhamaydeh, Ahmed Mohamed And Mahmoud Awad. Development of Fault-Detection ANNs for Structural Damage Prediction, Aci Sp-350: The Concrete Industry In The Era Of Artificial Intelligence, 1 November 2021
Ahmed Ababneh, Mohamed Elaradi And Mahmoud Awad. The Minimization of giveaway and underweight in poultry proportioning process, International Journal Of Six Sigma & Competitive Advantage
Abdulla Alhourani, Mahmoud Awad, Mohammad Nazzal And Basil Darras. Optimization of friction stir back extrusion mechanical properties and productivity of magnesium AZ31-B seamless tubes, Proceedings Of The Institution Of Mechanical Engineers, Part B: Journal Of Engineering Manufacture
Mahmoud Awad, Malick Ndiaye And Ahmed Osman. Vehicle routing in cold food supply chain logistics: a literature review, The International Journal Of Logistics Management, April (2nd Quarter/Spring) 2021
Mehmet Ertem, Rami Asa'd, Mahmoud Awad And Abdulrahman Al-bar. Workers-Constrained Shutdown Maintenance Scheduling with Skills Flexibility: Models and Solution Algorithms, Computers And Industrial Engineering
Mahmoud Awad, Noha Hassan And Sathish Kannan. Mechanical properties of melt infiltration and powder metallurgy fabricated aluminum metal matrix composite, Proceedings Of The Institution Of Mechanical Engineers, Part B: Journal Of Engineering Manufacture, 1 January (1st Quarter/Winter) 2021
Mahmoud Awad. Printed wire assembly HASS profile development based on HALT, Microelectronics Reliability, 28 May 2020
Leen Nazzal, Eman Arafeh, Hawazen Diab, Moreeda Nassar, Abdulrahim Shamayleh And Mahmoud Awad. Utilization of Machine Learning in Patient Admission into Intensive Care Units, 2020 Advances In Science And Engineering Technology International Conferences (aset)
Mahmoud Awad And Ali Ebraheem. On-line roughness fault detection using current profile measurement
Abdulrahim Shamayleh, Mahmoud Awad And Jumana Farhat. IoT Based Predictive Maintenance Management of Medical Equipment, Journal Of Medical Systems, 20 February 2020
Mahmoud Awad, Malick Ndiaye And Ahmed Osman. Vehicle Routing in Cold Food Supply Chain Logistics: a Literature Review, International Journal Of Logistics Management
Mahmoud Awad, Noura Almansoori, Samah Aldulaijian, Sara Althani, Noha Hassan And Malick Ndiaye. Manual Spray Painting Process Optimization Using Taguchi Robust Design, Journal Of Quality & Reliability Management
Mahmoud Awad, Ayman Alzaatreh, Alia Al Mutawa, Hind Al Ghumlasi And Mariam Al Marzooqi. Travelers Perception of Service Quality At Dubai International Airport., Quality & Reliability Management
Abdulrahim , Mahmoud Awad And Aidah Abdulla. Criticality Based-Reliability Centered Maintenance for Healthcare, Journal Of Quality In Maintenance Engineering
Mahmoud Awad, Mohammad Alhamaydeh And Ahmed Faris. Fault detection via nonlinear profile monitoring using artificial neural networks, Quality And Reliability Engineering International, 1 October (4th Quarter/Autumn) 2018
Ahmed Abdulla And Mahmoud Awad. Amine Foaming Modeling and Reduction Using Binary Logistic Regression, Proceedings Of 3rd International Conference On Quality Engineering And Management – Icqem18, Barcelona, Spain, July 11-13, 2018, 11 July (3rd Quarter/Summer) 2018
Mahmoud Awad And Noha Hassan. Joint decisions of machining process parameters setting and lot-sizedetermination with environmental and quality cost consideration, Journal Of Manufacturing Systems, 1 January (1st Quarter/Winter) 2018
Mahmoud Awad. Fault detection of fuel systems using polynomial regression profile monitoring, Quality And Reliability Engineering International, 1 June 2017
Mahmoud Awad, Mohammad Alhamaydeh And Ahmed Mohamed. Structural damage fault detection using artificial neural network profile monitoring, 2017 7th International Conference On Modeling, Simulation, And Applied Optimization, 4 April (2nd Quarter/Spring) 2017
Mahmoud Awad. Analyzing sensitivity measures using moment-matching Technique, Reliability Engineering And System Safety, 31 March 2017
Mahmoud Awad And Yassir Shanshal. Utilizing Kaizen process and DFSS methodology for new product development, Journal Of Quality & Reliability Management, 6 March 2017
Mahmoud Awad And Mehmet Ertem. Stochastic scheduling of workforce-constrained preventive maintenance activities in petroleum plants, 2017 Rams, Orlando, Fl, Jan 22-24, 2017, 24 January (1st Quarter/Winter) 2017
Mahmoud Awad And Rami As' Ad. Reliability centered maintenance actions prioritization using fuzzy inference systems, Journal Of Quality In Maintenance Engineering, 10 October (4th Quarter/Autumn) 2016
Mahmoud Awad. Economic allocation of reliability growth testing using Weibull distributions, Reliability Engineering & Systems Safety, 31 August 2016
Raid Al-aomar And Mahmoud Awad. Dynamic process modeling of overbooking strategy in healthcare clinics, Int. J. Engineering Management And Economics, 1 January (1st Quarter/Winter) 2012
Mahmoud Awad And Jamison Kovach. Multiresponse Optimization Using Multivariate Process Capability Index, Quality And Reliability Engineering International, 1 June 2011
Mahmoud Awad And Leslie Monplaisir. Selection of free zone industrial plants proposals using analytic network process (ANP), International Journal Of Applied Decision Sciences, 1 May 2011
Mahmoud Awad And Ali Alkelani. A Note on Hydraulic Leaks for Mobile Equipment, Proc. Asme. 49217; Asme 2010 Pressure Vessels And Piping Conference: Volume 2:31-38.january 01, 2010 Asmecp002010049217000031000001, 2010
Mahmoud Awad, Tashi Erdmann, Yassir Shanshal And Bruce Barth. A Measurement System Analysis Approach for Hard-to-Repeat Events, Quality Engineering, 1 June 2009
Mahmoud Awad, Adam Ewing, George Sedlak, Tong Yi And Yassir Shanshal. Track roller and idler design improvement using DFSS, Int. J. Six Sigma And Competitive Advantage, 1 March 2009
Mahmoud Awad, Nanua Singh And Agus Sudjianto. MPP search method using limited radial importance sampling, International Journal Of Product Development, 1 August 2006
Mahmoud Awad, Radwan Hazime And Nanua Singh. Impact of Optimality Criteria on Meta-modeling Accuracy under Scarce Sampling Plans, Society Of Automotive Engineers Sae Technical Paper 2005-01-1761, 2005, Doi:10.4271/2005-01-1761., 2 January (1st Quarter/Winter) 2005
Conference Presentations
On-Line Roughness Fault Detection Using Current Profile Measurement, The 68th Annual Reliability & Maintainability Symposium, Jan 24-27, 2022, Tucson, Az, 25 January 2022
Travelers Perception of Service Quality at Dubai International Airport, Third International Conference On Mathematics And Statistics, February 2020
Travelers Perception of Service Quality at Dubai International Airport, Third International Conference On Mathematics And Statistics, February 2020
Predictive Maintenance Using Machine Learning, First Schumberger Phm Workshop, 15 October 2019
Grants and sponsorships
Grant, ESTIMATION OF REMAINING USEFUL LIFE OF CUTTING TOOLS USING MACHINE EARNING & HEALTH INDEX SIMILARITY APPROACH, American University of Sharjah (NOT FUNDED), June 2022 - May 2023
Grant, Production of Acidic Biochar for Soil Application- Phase II, Emirates Global Aluminum (EGA), 2022
Grant, FRG21-S-E57: Predictive maintenance model of auto fleet brake pads and rotors, AUS research office, 1 June 2021 - 31 May 2022
Grant, Real-time green vehicle routing optimization for IOT-based temperature controlled items, Smart Cities Research Institute, January 2019 - December 2021
Grant, Designing an impact resistant hybrid fiber reinforced composite using nano-fillers and carbon nanotubes, American University of Sharjah- Enhanced Faculty Research Grant-EFRG-2019, May 2019 - June 2021
Grant, Real-Time Green Vehicle Routing Optimization for IOT-based Temperature Controlled Items, SCRI, January 2019 - June 2021
Grant, Two-Stage Multiple Trip Cold Supply Chain Vehicle Routing Modeling, AUS research office
Grant, Fabrication of Foam MMC optimization, American University of Sharjah- Enhanced Faculty Research Grant-EFRG-2018:, May 2018 - December 2019
Awards and Honors
Houston Pressure and Sampling I3 Award, Sclumberger technology Incorporation, Pressure Gauge Calibration Interval Improvement, 18 November 2013
Houston Pressure and Sampling I3 Award, Sclumberger technology Incorporation, Reduction Pump Failures using PHM methodology, 5 November 2012
Monthly Technical Achievement Award, Ford Motor Company, 2007 P356 6.4L Powerstroke Oil consumption Reduction, 10 October 2005
Gold Start Recognition of Excellence Award, Ford Motor Company, Developing DFSS Training Modules, 24 June 2004
Gold Start Recognition of Excellence Award, Ford Motor Company, Evaluation of Fatigue Life Regression Models, 23 March 2004