About

Admissions

Academics

Life at AUS

.
Profile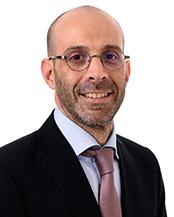 College / Department
Education
PhD, Ph.d., Universidad Complutense de Madrid, Spain, 2005
MBA, Mba, Universidad Antonio de Nebrija, Spain, 2000
BS, Accounting, Universidad Nacional de Tucuman, Argentina, 1998
Professional experience
Associate Professor, Management, American University of Sharjah, 2016 - Present
Visiting Professor, Management, IMT School for Advanced Studies, Italy, 2020 - 2021
Researcher - Post-doc Phd, Witten/Herdecker University, Germany, 2013 - 2016
Assistant Professor - Researcher, Universidad Catolica del Norte, Chile, 2010 - 2013
Contact
Dr. Rodrigo Basco Rodriguez
PhD, Universidad Complutense de Madrid, Spain
As part of a fourth-generation family-owned Argentinean firm, Dr. Rodrigo Basco has always been interested in the nuances of family businesses. He is currently an associate professor at American University of Sharjah (AUS)–United Arab Emirates and holds the Sheikh Saoud bin Khalid bin Khalid Al-Qassimi Chair in Family Business. His research focuses on entrepreneurship, management, and regional development with special interest in family firms, and he has taught economics, management, and family business courses at universities in Spain, Chile, and Germany. His research has been published ...
Publications
Rana Hamdan, Rodrigo Rodriguez And Arpita Vyas. Succession Intention of the United Arab Emirates NextGens, July (3rd Quarter/Summer) July (3rd Quarter/Summer) 2021
Stefano Amato, Rodrigo Basco And Nicola Lattanzi. Contextualizing employment outcome in family business research: Current findings and future research avenues, Management Review Quarterly
Irma Garcia-martinez, Rodrigo Basco And Silvia Gomez-anson. Dancing with giants: Contextualizing state and family ownership effects on firm performance in the Gulf Cooperation Council, Journal Of Family Business Strategy
Norris Krueger, Marcel Bogers, Rania Labaki And Rodrigo Basco. Advancing family business science through context theorizing: The case of the Arab world, Journal Of Family Business Strategy
Rodrigo Basco And Lech Suwala. Family Business and Regional Development, March March 2021
Rodrigo Basco And Fernanda Ricotta. A regional perspective of family firms: Evidence from Europe, March March 2021
Rodrigo Basco And Inga Bartkeviciute. Place-based approach and family firms, March March 2021
Rodrigo Basco And Lech Suwala. Spatial familiness and family spatialities—searching for fertile ground between family business and regional studies, March March 2021
Rodrigo Basco, Stefano Amato, Silvia Gomez-anzon And Andrea Calabro. Urbanization economies, proximity dimensions and productivity: A family firm perspective, March March 2021
Trung Quang Dinh, Andrea Calabro, Giovanna Campopiano And Rodrigo Basco. The Impact of Politically Connected CEOs and Boards of Directors on Firm Performance: A Study of Vietnamese Family and Nonfamily Firms, Entrepreneurship Theory And Practice
Rodrigo Basco And Fernanda Ricotta. Family firms in European regions: the role of regional institutions, Entrepreneurship And Regional Development
Rana Hamdan, Rodrigo Rodriguez, Silvia Gomez-anson, Irma Martinez-garcia, Fatima Ghaleb And Sadia Malik. Ownership Concentration in Listed Firms in the Gulf Cooperation Council: Implications for Corporate Governance, September September 2020
Rodrigo Basco And Lech Suwala. Spatial familiness: a bridge between family business and economic geography, A Research Agenda For Family Business
Rodrigo Basco, Fatima Ghaleb, Silvia Gomez-anson, Rana Hamdan And Irma Martinez-garcia. Ownership Concentration in Listed Firms in the Gulf Cooperation Council: Implications for Corporate Governance, September September 2020
Irma Martinez Garcia, Rodrigo Basco, Silvia Gomez-anson And Narjess Boubakri. Ownership concentration in the Gulf Cooperation Council, International Journal Of Emerging Markets
Ismael Barros-contreras, Rodrigo Basco, Natalia Martin=cruz And Juan Hernangomez. Strategic management in family business. The missing concept of the familiness learning mechanism, Journal Of Family Business Management
Rodrigo Basco And Tor Brodtkorb. Sheikh Saud Bin Majid's Dilemma: A Case Study of the Al Saud Company, Harvard Business Review Arabia, July (3rd Quarter/Summer) July (3rd Quarter/Summer) 2020
Stefano Amato, Rodrigo Basco, Silvia Gomez Anson And Nicola Lattanzi. Family-managed firms and employment growth during an economic downturn: does their location matter?, Baltic Journal Of Management, June June 2020
Rodrigo Basco, Ana Rodriguez Escudero, Natalia Martin Cruz And Ismael Barros-contreras. The Combinations of Market and Non-Market Strategies That Facilitates Family Firm Survival, Entrepreneurship Research Journal
Rodrigo Basco, Felipe Hernández-perlines And María . The effect of entrepreneurial orientation on firm performance: A multigroup analysis comparing China, Mexico, and Spain, Journal Of Business Research, May May 2020
Rodrigo Basco, Giovanna Campopiano And Andrea Calabrò. The "Most Wanted": The Role of Family Strategic Resources and Family Involvement in CEO Succession Intention, Family Business Review
Rodrigo Rodriguez, Stefano Amato, Mikaela Backman And Nicola Lattanzi. Family-managed firms and local export spillovers: evidence from Spanish manufacturing firms, European Planning Studies, March March 2020
Rodrigo Rodriguez, Lorenzo Dal Maso, Thomas Bessetti And Nicola Lattanzi. Family Ownership and Environmental Performance: The mediation effect of human resource practices, Business Strategy And The Environment, March March 2020
Rodrigo Rodriguez, Albert James, Elias Hadjielias, Maribel Guerrero And Allan Discua Cruz. Entrepreneurial families in business across generations, contexts, and cultures, Journal Of Family Business Management
Rodrigo Basco, Luis Gomez-mejina, Ana Gonzalez And Claudio Muller. Family business and local development in Iberoamerica, Cross Cultural & Strategic Management, February February 2020
Rodrigo Rodriguez, Yasmine Omari And Layan Abochkaier. Family Business Ecosystem in UAE, January (1st Quarter/Winter) January (1st Quarter/Winter) 2020
Rodrigo Rodriguez, Txomin Iturralde, Amaia Maseda And Gloria Aparicio. La Empresa Familiar Vasca en el contexto Europeo. El desafio de Crecer, Madurar y Permanecer, December December 2019
Rodrigo Rodriguez. "¿Qué padre puede pensar que su hija tiene menos competencia que un hombre?", Noticias De La Universidad Del Pais Vasco, December December 2019
Rana Hamdan And Rodrigo Rodriguez. Student Entrepreneurial Ecosystem in United Arab Emirates, November November 2019
Rodrigo Basco, Giovanna Campopiano, Andrea Calabro And Sascha Kraus. They Are Not All the Same! Investigating the Effect of Executive versus Non-executive Family Board Members on Firm Performance, Journal Of Small Business Management, November November 2019
Rodrigo Rodriguez And Rana Hamdan. Student entrepreneurship in the United Arab Emirates, October (4th Quarter/Autumn) October (4th Quarter/Autumn) 2019
Rodrigo Basco. What kind of firm do you owner-manage? An institutional logics perspective of individuals' reasons for becoming an entrepreneur, Journal Of Family Business Management, April (2nd Quarter/Spring) April (2nd Quarter/Spring) 2019
Rodrigo Basco, Susanne Sandberg, Per Servais And Allan Discua Cruz. Entrepreneurship, Migration, and Family in Peripheral Contexts – Avenues for Growth and Internationalisation, Int. J. Entrepreneurship And Small Business, January (1st Quarter/Winter) January (1st Quarter/Winter) 2019
Rodrigo Basco, Allan Discua Cruz, Maria Jose Parada, Antonio Malfense Fierro And Cristina Alvarado-alvarez. Resilience and Family Business Groups in Unstable Economies, January (1st Quarter/Winter) January (1st Quarter/Winter) 2019
Rodrigo Basco, Maria Jose Parada, Naveed Akhter, Allan Discua Cruz And Srah Fitz-koch. Understanding the Dynamics of Business Group Development: A Transgenerational Perspective, January (1st Quarter/Winter) January (1st Quarter/Winter) 2019
Rodrigo Rodriguez, Allan Discua Cruz And Turcan R \& Fraser, N. A family perspective on Entrepreneurship, 2018
Rodrigo Rodriguez, Robert Grosse And Klaus Meyer. Family Business in Emerging Markets, 2018
M. Elo, S. Sandberg, P. Servais, R. Basco, A.d. Cruz, L. Riddle And T\"aube, F.. Advancing the views on migrant and diaspora entrepreneurs in international entrepreneurship, Journal Of International Entrepreneurship, 2018
Claudia Pongelli, Andrea Calabro And Rodrigo Basco. Family firms' international make-or-buy decisions: Captive offshoring, offshore outsourcing, and the role of home region focus, Journal Of Business Research, 2018
Rodrigo Rodriguez And Tor Brodtkorb. Saud Bin Majid's Dilemma, 2018
Rodrigo Rodriguez, Rana Hamdan And Olga Stangej. Career Intentions by The Next Generation: Initial Findings, 2018
Rodrigo Rodriguez, Niha Mahmood, Fatmeh Barazandeh And Noha Eman. Millennials' Family Business Goals, 2018
Rodrigo Basco, Andrea Calabro And Giovanna Campopiano. Transgenerational Entrepreneurship around the World: Implications for Family Business Research and Practice, Journal Of Family Business Strategy, April (2nd Quarter/Spring) April (2nd Quarter/Spring) 2018
Rana Hamdan, Rodrigo Rodriguez And Olga Stangej. Career Intentions by The Next Generation: Initial Findings, March March 2018
Rodrigo Rodriguez. Epilogue: Multiple embeddedness contexts for entrepreneurship, 2017
Rodrigo Rodriguez. Epilogue: The Multiple Embeddedness of Family Firms in the Arab World, 2017
Olga Stangej, Rodrigo Rodriguez, Arnis Sauka And Alexander Chepurenko. The Entrepreneurial Role of Families in Transitional Economies: The Case of Lithuania, 2017
Gloria Aparicio, Rodrigo Rodriguez, Txomin Iturralde And Amaia Maseda. An exploratory study of firm goals in the context of family firms: An institutional logics perspective, Journal Of Family Business Strategy, 2017
Calabr\`o, A., G. Campopiano, Rodrigo Rodriguez And T. Pukall. Governance structure and internationalization of family-controlled firms: The mediating role of international entrepreneurial orientation, European Management Journal, 2017
Rodrigo Rodriguez And Calabr\`o, Andrea. Who should sit there? Effects of family-oriented objectives on board composition, International Journal Of Entrepreneurial Venturing, 2017
Rodrigo Rodriguez And Calabr\`o, A.. "Whom do I want to be the next CEO?" Desirable successor attributes in family firms, Journal Of Business Economics, 2017
Andrea Calabro, Giovanna Campopiano, Rodrigo Basco And . Principal-principal conflicts and family firm growth: The moderating role of business family identity, Journal Of Family Business Management, October (4th Quarter/Autumn) October (4th Quarter/Autumn) 2017
Rodrigo Basco. "Where do you want to take your family firm?" A theoretical and empirical exploratory study of family business goals, Brq Business Research Quarterly, July (3rd Quarter/Summer) July (3rd Quarter/Summer) 2017
Calabr\`o, Andrea, Giovanna Campopiano, Rodrigo Rodriguez And Thilo Pukall. Governance structure and internationalization of family-controlled firms: The mediating role of international entrepreneurial orientation, European Management Journal, May May 2017
J.e. Amoros, Rodrigo Rodriguez And Roman?, G.. Determinants of early internationalization of new firms: the case of Chile, International Entrepreneurship And Management Journal, 2016
Rodrigo Rodriguez And Bartkevi\vciūtė, I.. Is there any room for family business into European Union 2020 Strategy? Family business and regional public policy, Local Economy, 2016
Rodrigo Rodriguez And Calabr\`o, A.. Open innovation search strategies in family and non-family SMEs: Evidence from a natural resource-based cluster in Chile, Academia Revista Latinoamericana De Administracion, 2016
Rodrigo Rodriguez. Family business and regional development-A theoretical model of regional familiness, Journal Of Family Business Strategy, 2015
Roger Stough, Friederike Welter, Joern Block, Karl Wennberg And Rodrigo Rodriguez. Family business and regional science: "Bridging the gap", Journal Of Family Business Strategy, 2015
Rodrigo Rodriguez And Wim Voordeckers. The relationship between the board of directors and firm performance in private family firms: A test of the demographic versus behavioral approach, Journal Of Management & Organization, 2015
Rodrigo Basco. Exploring the influence of the family upon firm performance: Does strategic behaviour matter?, International Small Business Journal, 2014
R. Basco. The family's effect on family firm performance: A model testing the demographic and essence approaches, Journal Of Family Business Strategy, 2013
Rodrigo Basco. How family contributes to family firm performance. A model to put demographic and essence approach to a test, 2012
R. Basco And P\'erez Rodr\'iguez, M.j.. Ideal types of family business management: Horizontal fit between family and business decisions and the relationship with family business performance, Journal Of Family Business Strategy, 2011
P\'erez Rodr\'iguez, Mar\'ia Jos\'e And Rodrigo Basco. The Cognitive Legitimacy of the Family Business Field, Family Business Review, 2011
Rodrigo Basco. Types of family orientation, and management and governance practices. A research applied to Spanish family business | Tipo de orientaci?n familiar y pr?cticas de direcci?n y gobierno. Un estudio aplicado a las empresas familiares espa?olas, Revista Europea De Direccion Y Economia De La Empresa, 2010
Rodrigo Basco, M.j. Perez Rodriguez, P\'erez Rodriguez, M J And Rodr\'iguez, Mar\'ia Jos\'e P\'erez. Studying the Family Enterprise Holistically Evidence for Integrated Family and Business Systems, Family Business Review, 2009
P\'erez Rodriguez, M J, Rodrigo Basco, Garc\'ia-tenorio Ronda, Jes\'us, Gim\'enez S\'anchez, Jes\'us And S\'anchez Quir\'os, Isabel. Fundamentos en la direcci\'on de la empresa familiar. Emprendedor, empresa y familia, 2007
Rodrigo Basco. La investigaci\'on en la empresa familiar: "Un debate sobre la existencia de un campo independiente", Investigaciones Europeas De Direccion Y Econom\'ia De La Empresa, 2006
Rodrigo Basco. Comportamientos en la direcci\'on y gobierno de la empresa familiar an\'alisis emp\'irico de la profesionalizaci\'on como garant\'ia de continuidad, 2005
Conference Presentations
Student Entrepreneurial Orientation, 2 September 2021
Succession Intention in the Arab World, Family Business Research Seminar, 5 December 2020
Student Entrepreneurial Education, Faculty Development Center, 28 October 2020
Contextualizing Family Business, Spanish Academy Of Management, 16 September 2020
Transitioning to the new normal: Successful practices from Asian families-in-business, Step Project Webinar Series, 18 June 2020
Conflict in Family Business, January 2020
Centennial Family Business, November 2019
Family Business Succession. The Paradox Between Change and Status Quo, Harvard Business Review Arabia, October 2019
Does the Institutional Context Influence Investors' Typologies?, 29th Acede Conference, June 2019
Family Firms in Emerging Economies, European Academy Of Management, June 2019
Family-Managed Firms and Open Innovation. A Firm and Regional Familiness Approach, Regional Studies Association Annual Conference 2019, June 2019
Harvard Business Review Arabia, 1st Mena Family Business Forum 2019 – Paving The Road To Sustainable Success, June 2019
The Effect of the Euro on Exporters' Productivity. Does Family Management Matter?, Regional Studies Association Annual Conference 2019, June 2019
The Influence of Culture on Investors' Typologies? Relational vs. Transactional Owners' Within European Firms, European Academy Of Management (euram) 2019, June 2019
Family-Managed Firms and Local Export Spillover, 15th Eiasm Workshop On Family Firm Management Research, May 2019
Family firms and talent management? Why do they fail?, 2018
Family Firms in the GCC, October 2018
The Presence of Family Firms in the Regions: the Role of the Quality of Regional Institutions, 58th Ersa Congress, August 2018
Does thenstitutional context influence typology of investors?, 26th Finance Forum Hosted By The Universidad De Cantabria, July 2018
Ownership Concentration in the Gulf Cooperation Council, 6th International Conference On Corporate Governance In Emerging Markets, July 2018
The Presence of Family Firms in the Regions: the Role of the Quality of Regional Institutions, 5th Global Conference On Economic Geography, July 2018
Why do Family Firms Fail to Manage Talent?, Family Enterprise Research Conference (ferc), July 2018
Dancing with Giant! Contextualizing the Family Ownership Effect on Firm Performance in the GCC Countries, Family Enterprise Research Conference (ferc), June 2018
It's also about Culture! The Effect of Formal and Informal Institutional Context on Ownership Concentration across European Union, European Academy Of Management, June 2018
Teaching Family business. Approaches and Contexts, Family Enterprise Research Conference (ferc), June 2018
"It's also about Culture! The Effect of Formal and Informal Institutional Context on Ownership Concentration across European Union, 28th Acede Conference, June 2018
Export and Productivity. The Joint Effect of Family Involvement and Economic Crisis, 14th Workshop On Family Business Management Research, May 2018
Why do Family Firms Fail to Manage Talent?, Theories Of Family Enterprise Conference (tofe), May 2018
Family Business in Emerging Economies, 14th Workshop On Family Business Management Research, 26 May 2018
Are Family Businesses Green?, 4th Forum For Research In Economics & Finance, 20 May 2018
Regional Familiness Model, Laemos 2018, 23 March 2018
Next CEO – Family or Non-family Member? The Role of Competitive Resources and TMT Configurations, Step Conference, 2017
Successful Transgenerational Entrepreneurial Practices: Implications for Family Business Research and Practice, Step Conference, 2017
Transgenerational Entrepreneurial, 2017
Transgenerational Entrepreneurial around the world. Implications for Family Business Research and Practice, 17th Annual Conference Of The European Academy Of Management, June 2017
An exploratory study of family firm survival during economic downturn, 13th Workshop On Family Firm Management Research, May 2017
An Exploratory Study of Family Firm Survivability During Economic Downturn, 2016
Competition and Family Firm Risk Aversion in the Era of Talent Management., Imaef Conference, 2016
Family Businesses – Made by Paradoxes, Reseach Seminar, 2016
Firm- and individual-level antecedents of management succession intention in family firms, 12th Workshop On Family Firm Management Research, 2016
Regional competitiveness and family firms, 2016
Scenes From a Marriage – Family Business and Marketing, Research Seminar, 2016
Family business and regional development, Research Seminar, 2015
Grants and sponsorships
Grant, Undergraduate Entrepreneurial Education in the UAE, American University of Sharjah, 1 June 2021 - 31 May 2024
Grant, Family Business in the Arab World Observatory, American University of Sharjah, 1 June 2019 - 31 May 2022
Awards and Honors
Stanford University's World Top 3% Scientists, 1 December 2020
Reviewer Award at the International Family Enterprise Research Academy (IFERA) conference, 30 June 2016
Award Nominee 2015 IFERA Best Conference Research Paper Award., 2015