About

Admissions

Academics

Life at AUS

.

SmallSats and Unmanned Systems: A New Paradigm of Teaching Tools for Complex Engineered Systems (March 2018)
EB1-030- CEN Auditorium
March 19, 2018
11:00 - 12:30
Free admission
Part of the College of Engineering Innovation Lecture Series
"SmallSats and Unmanned Systems: A New Paradigm of Teaching Tools for  Complex Engineered Systems"
A lecture by Dr. Ahsan Choudhuri, University of Texas at El Paso.
---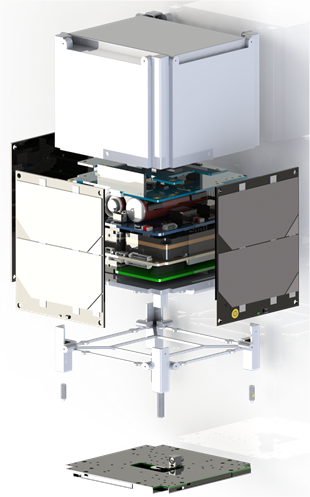 In recent time, the complexity of most engineered systems has increased exponentially. With the emergence of transboundary sub-systems such sensing, embedded real-time processing, data fusion,  autonomous and intelligent behavior, the design methodologies for most engineered systems has undergone a paradigm shift. However, current curriculum and teaching tools for most classical engineering disciplines are often inflexible to respond to these changes.
Over the last decade, Small Satellites ( aka CubeSats) and Unmanned Aerial Systems (aka Drones) infiltered many academic programs in the United States and other parts of the globe as an affordable pathway to introduce transdisciplinary complexities in design learning. However, these programs often stay as isolated research or capstone projects and do not provide curriculum integration or comprehensive design and professional learning. 
The research and education team of the Mechanical Engineering Department at the University of Texas at El Paso has recently developed a program for Small Sattelite (SmallSat) and Unmanned Aerial Systems (UAS) that holistically integrates curriculum innovation, industry embedded professional training, infrastructure and capacity building, and research and development. The differentiating aspect of UTEP Mechanical Engineering's SmallSat and UAS programs is its longitudinal and lateral integration of student development and industry participation.
The presentation highlights two projects currently under development at UTEP within this context: Orbital Factory II (OF II) and El Paso unmanned traffic management ( El Paso UTM).  OF II is a 1U CubeSat for Geo Transfer Orbit (GTO)  currently being developed in partnership with Lockheed Martin Space Systems and United Launch Alliance. The CubeSat demonstrates (i) additive manufacturing in space for on-orbit repair, (ii) surface charge management, and (iv) flight testing of a 3D printed S-Band patch antenna (industry payload). El Paso UTM is a UTEP led effort El Paso team to deploy a fully integrated small unmanned aerial system (sUAS) ecosystem to demonstrate (i) safe operations of the entire range of sUAS mission, (ii) safe operations over a wide geographic areas, and (iii) an environment that will allow Federal Aviation Authority (FAA) approval for Beyond Visual Line of Sight (BVLOS) operations.
About the presenter:
Ahsan Choudhuri is Professor and Chair of the Mechanical Engineering Department and Founding Director of the NASA MIRO Center for Space Exploration and Technology Research (cSETR) at The University of Texas at El Paso (UTEP). He also holds the endowed Mr. and Mrs. MacIntosh Murchison Chair II in Engineering. He leads a department of more than 1300 graduate and undergraduate students. Under the direction of Dr. Choudhuri, the cSETR performs frontier research in aerospace and energy engineering while training underrepresented minorities in the fields of science, technology, engineering and mathematics (STEM). cSETR supports an average of 100 students.  
During his 17 years at UTEP he has led the transformation of the Mechanical Engineering Department to a nationally preeminent education and research program. In his leadership role, he also formed strategic collaborations and partnerships with NASA, DOE, DOD, aerospace and defense industries, and other universities. This is reflected in the more than US $29 million (PI and Co-PI) in external grants, contracts and capital funding generated by his effort. Dr. Choudhuri has mentored 7 Research Assistant Professors, been the research supervisor of 18 PhD and 66 MS graduates, and co-authored more than 140 technical publications. Many of these students have been recruited to the job market obtaining positions within academia, federal agencies, and aerospace and defense industries.
Dr. Choudhuri has received numerous awards and recognitions including recognition for Faculty Award for Research Innovation from NASA and an Outstanding Leadership Award from UTEP. 
Dr. Choudhuri received a Bachelor of Science in Engineering from Khulna University of Engineering and Technology Department of Mechanical Engineering and a Master of Science and PhD from the University of Oklahoma School of  Aerospace and Mechanical Engineering.