About

Admissions

Academics

Life at AUS

.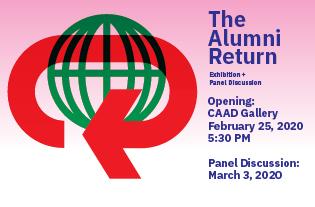 The Alumni Return
AD2-123 CAAD main gallery
February 25, 2020 - March 3, 2020
17:30 - 18:00
Open entry
The Alumni Return celebrates seven AUS College of Architecture, Art and Design alumni and their graduate thesis projects.  The exhibition offers a unique insight into emerging contemporary art and design practices in the region from the perspective of CAAD alumni. The exhibition is a collaboration between AUS CAAD and Tashkeel.
Opening:  CAAD Gallery
February 25, 2020
5:30 p.m.
Panel Discussion: CAAD AD1-103
March 3, 2020
5:30 p.m.
For more information, please contact us at [email protected].