Profile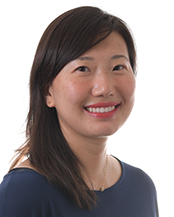 College / Department
Contact
Dr. Park's research interests include complex word processing, figurative language comprehension, embodied cognition, bilingualism and gestures. She received her Ph.D. in Cognitive Psychology at the University of Alberta, her M.Sc. in Research in Cognitive Psychology at Université Paris V (Paris Descartes), and her Licentiate Degree in Psychology at Universidad de Buenos Aires. She is also a registered psychologist in Argentina. Before working at the American University of Sharjah, she taught 15 different Psychology courses in English, French and Spanish at the Department of ...
Publications
Juana Park, Faria Sana, Christina Gagne And Thomas Spalding. Factors that Influence the Processing of Noun-Noun Metaphors, Metaphor And Symbol, 2021
Faria Sana, Juana Park, Christina Gagne And Thomas Spalding. The interplay between inhibitory control and metaphor conventionality, Memory & Cognition, 2021
Juana Park, Faria Sana, Christina Gagne And Thomas Spalding. Is inhibition involved in the processing of opaque compound words? A study of individual differences, Mental Lexicon, 2020
Juana Park. Comprehension and written production of English modifier-noun phrases: effects of meaning predictability, Skase Journal Of Theoretical Linguistics, 2015
Marianne Barbu-roth, David Anderson, Ryan Streeter, Marie Combrouze, Juana Park, Brooke Schultz, Joseph Campos, Francois Goffinet And Joelle Provasi. Why Does Infant Stepping Disappear and Can It Be Stimulated by Optic Flow?, Child Development, 2015
Awards and Honors
Graduate Student Teaching Award, Faculty of Graduate Studies and Research, University of Alberta, 2017
Teaching Honor Roll/Honor Roll with Distinction (every term, from 2016 to 2020), Department of Psychology, University of Alberta, For each of the courses that I have taught at the Department of Psychology of the University of Alberta I was placed on the Departmental Teaching Honor Roll or Honor...