About

Admissions

Academics

Life at AUS

.
Profile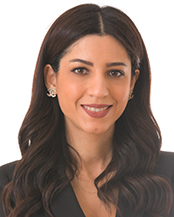 College / Department
Education
PhD, Marketing, University of Manchester, United Kingdom, 2015
Contact
PhD, University of Manchester, United Kingdom
Mona Mrad is an Assistant Professor in Marketing at the American University of Sharjah. She holds a Ph.D. in Marketing from the University of Manchester, UK. She has also obtained a degree in fashion design from ESMOD and attended fashion courses at the London College of Fashion in the UK. Mona's research interests fall in the general area of consumer behavior, technology and innovation, and fashion/luxury marketing. Her research has appeared in academic journals such as the Journal of Business Research, European Journal of Marketing, Journal of Retailing and Consumer Services, Journal of ...
Publications
Michael Solomon And Mona Mrad. Fashion \& Luxury Marketing, 2022
Houcine Akrout And Mona Mrad. Measuring brand hate in a cross-cultural context: Emic and Etic scale development and validation, Journal Of Business Research
Mona Mrad, Sahar Karimi, Zsófia Tóth And George Christodoulides. Elite luxury experiences: customer and managerial perspectives, Journal Of Marketing Management, 25 May 2022
Zsófia Tóth, Mona Mrad, Omar Itani, Jun Luo And Martin Liu. B2B eWOM on Alibaba: Signaling through online reviews in platform-based social exchange, Industrial Marketing Management
Mona Mrad, Maya Farah And Nour Mehdi. WhatsApp communication service: a controversial tool for luxury brands, Qualitative Market Research: An International Journal, 11 April (2nd Quarter/Spring) 2022
Mona Mrad, Zahy Ramadan And Lina Nasr. Computer-generated influencers: the rise of digital personalities, Marketing Intelligence & Planning
Mona Mrad, Zsofia Toth, Sahar Karimi And George Christodoulides. Elite Luxury Experiences: Customer and Managerial Perspectives, Journal Of Marketing Management
Maya Farah, Mona Mrad, Zahy Ramadan And Houssam Hamdane. Handle with care, 2020
Mona Mrad, Joelle Majdalani, Charles Cui And Zeinab El Khansa. Brand addiction in the contexts of luxury and fast-fashion brands, Journal Of Retailing And Consumer Services, 2020
Mona Mrad And Charles Cui. Comorbidity of compulsive buying and brand addiction: An examination of two types of addictive consumption, Journal Of Business Research, 2020
Joelle Majdalani, Mona Mrad And Zeinab El Khansa. Brand addiction in the context of luxury and fast-fashion, 2019
Mona Mrad And Charles Cui. Comorbidity of compulsive buying and brand addiction, 2019
Marzena Nieroda, Mona Mrad, Michael Solomon And Charles Cui. The Effect of the User Experience Cycle on the Adoption of Smart Technologies for Innovative Consumers: The Case of Mass-fashion and Luxury Wearables: An Abstract, 2019
Mona Mrad, Maya Farah And Stephanie Haddad. From Karl Lagerfeld to Erdem: a series of collaborations between designer luxury brands and fast-fashion brands, Journal Of Brand Management, 2019
Mona Mrad And Charles Cui. Consumer Pleasure or Guilt: Luxury Fashion Brand Addiction and Social Media Marketing: An Abstract, 2018
Mona Mrad, Marzena Nieroda, Charles Cui And Michael Solomon. How does design of luxury hybrids appeal to consumers? a study of consumers' intentions to buy wearables, 2018
Mona Mrad. Brand addiction conceptual development, Qualitative Market Research: An International Journal, 2018
Charles Cui, Mona Mrad And Margaret Hogg. Brand addiction: Exploring the concept and its definition through an experiential lens, Journal Of Business Research, 2018
Marzena Nieroda, Mona Mrad And Michael Solomon. How do consumers think about hybrid products? Computer wearables have an identity problem, Journal Of Business Research, 2018
Marzena Nieroda, Mona Mrad And Michael Solomon. Sporty, Posh or… What Type of Wearable Fits You? A Conceptual Framework for Consumer's Adoption of Wearable Devices: An Abstract, 2017
Mona Mrad And Charles Cui. The roles of brand addiction in achieving appearance esteem and life happiness in fashion consumption: An abstract, 2017
Zahy Ramadan, Maya Farah And Mona Mrad. An adapted TPB approach to consumers' acceptance of service-delivery drones, Technology Analysis \& Strategic Management, 2017
Mona Mrad And Charles Cui. Brand addiction: conceptualization and scale development, European Journal Of Marketing, 2017
Zahy Ramadan And Mona Mrad. Fashionable stereotypes and evolving trends in the United Arab Emirates, Customer Needs And Solutions, 2017
Mona Mrad And Charles Cui. Brand Addiction: A New Concept for Understanding Consumer Brand Behavior, 2016