Profile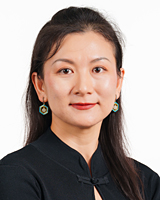 College / Department
Teaching areas
Introduction to Sociology; Sociology of Religion; Urban Sociology; Globalization; East Asian Societies; Chinese Culture and Society; American Society; International Organization; World Culture Geography; Senior Research
Research areas
Muslim minorities in North America and China; Chinese diaspora; Sino-UAE Relations; Public health policy in the UAE
Education
PhD, Sociology, University of Notre Dame, United States, 2009
MA, Sociology, Western Illinois University, United States, 2003
BA, English Literature, Renmin University of China, China, 2001
Professional experience
Associate Professor, Sociology, International Studies, American University of Sharjah (AUS), United Arab Emirates, 2015 - Present
Affiliated Research Fellow, Center On Religion And Chinese Society, Purdue University, IN, United States, 2009 - Present
Summer Research Fellow In Residence, Middle East Center, London School of Economics and Political Science, United Kingdom, 2019 - 2019
Visiting Scholar, Department Of Ethnic Studies, University of California-Berkeley, CA, United States, 2016 - 2017
Assistant Professor, Sociology, International Studies, American University of Sharjah (AUS), United Arab Emirates, 2009 - 2015
Visiting Scholar, Center On Religion And Chinese Society, Purdue University, IN, United States, 2011 - 2011
Instructor/pre-doctoral Fellow, Department Of Sociology And Asian-american Studies Program, Northwestern University, IL, United States, 2007 - 2008
Memberships
East Asian Society for the Scientific Study of Religion, EASSSR, EASSSR is an international academic society established to encourage meaningful communication among social scientists who study religion in East Asia and facilitate further development of the scientific study of religion in this region., April 2018
Association for the Sociology of Religion, ASR, The Association for the Sociology of Religion (ASR) is an international scholarly association that seeks to advance theory and research in the sociology of religion., April 2012
Society for the Scientific Study of Religion, The Society for the Scientific Study of Religion (SSSR) is an interdisciplinary academic association that stimulates, promotes, and communicates social scientific research about religious institutions and experiences., January 2012
Chinese Society for the Scientific Study of Religion, March 2005
European Sociological Association, The European Sociological Association (ESA) aims to facilitate sociological research, teaching and communication between sociologists, sociologists and other scientists, and to give sociology a voice in European affairs. Its focus is the development of sociological knowledge. ESA is an academic association of sociologists and a non-profit Europe-wide association made up of 2800 members. It was established in 1994-95, following deliberations and consultations among sociologists from a diverse range of countries., May 2013 - May 2014
Midwest Sociological Association, The Midwest Sociological Society, founded in 1936, is a professional organization of academic and applied sociologists as well as students of the discipline. Nearly 1300 scholars, students and practicing sociologists in universities, government and business belong to the organization. Known for its accessible but rigorous meetings, the MSS encompasses nine states – Illinois, Missouri, Wisconsin, Iowa, Nebraska, Minnesota, Kansas, South Dakota and North Dakota. However, more than one-third of the members are from other parts of the nation and the world., Ma...
Society for the Scientific Study of Religion, December 2004 - December 2009
American Sociological Association, The American Sociological Association, founded in 1905, is the national professional membership association for sociologists and others who are interested in sociology. ASA members include students, faculty working in a full range of institutions, and people working in government agencies and nonprofit and private sector organizations. ASA's mission is to serve sociologists in their work, advance sociology as a science and profession, and promote the contributions and use of sociology to society. ASA works toward accomplishing this mission t...
Association for the Sociology of Religion, March 2004 - March 2009
Contact